Ana Botin reshuffles Santander, names new CEO and promotes other managers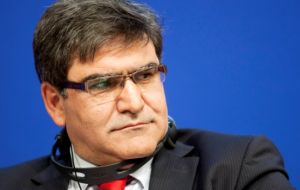 Spain's Santander, the biggest bank in Europe by market value, reshuffled its command naming Jose Antonio Alvarez as its new chief executive replacing Javier Marin after his two years in the job, the bank said in a statement.
Several other managers were internally promoted under the leadership of Ana Botin, Emilio Botin's daughter who took over as chairman after her father's death in September. He died suddenly of a heart attack after leading the global expansion of the bank during nearly 30 years at its helm.
The new managers will take up their posts in January, subject to regulators' approval.
Santander named Jose Garcia Cantera as the new CFO and also appointed three new directors to its board.
Ms Botin had been head of Santander UK since 2010 and chaired the bank's Spanish-based subsidiary Banesto for eight years before that. She began her banking career at JPMorgan.
Garcia Cantera had been a highly rated banking analyst at Citi before becoming chief executive of Banesto, which was integrated with Santander Spain last year.
Santander also appointed three new independent members to its board. Bruce Carnegie-Brown, who had been a member of Santander UK's board, will fill the new role of lead independent director. Mexican businessman Carlos Fernandez and Sol Daurella, head of the Coca-Cola bottling business in Spain, are the other two new directors.
Nine of the now 15-strong board will be independent in a bid to address concerns that Ms Botin's father exercised too much boardroom control in his 28-year tenure. Five of the directors are women.
Ms Botín thanked Marin for his 23 years at the bank, including the past two as chief executive pointing out in a statement that "during his two years in this role, he has led the commercial transformation of our bank... while also improving our profitability and efficiency".
"The financial services industry today faces many important challenges. But Banco Santander is uniquely well-positioned to succeed, thanks to our strong local retail and commercial banking presence in 10 European and American markets," she added.
Emilio Botín was one of the most powerful men in Spain, where critics branded him a symbol of excesses in the banking system which sparked a ruinous property crash - although his own bank survived it.
Santander said its net profit jumped by 52% in the third quarter of this year to €1.6 billion, due to lower costs and higher earnings in its main markets - Spain, Brazil and Britain, where it bought Abbey National bank in 2004.