Magallanes region with the second lowest unemployment in Chile: 3.2%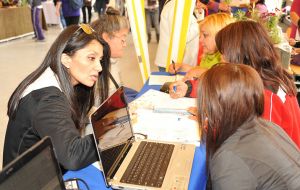 Magallanes Region in the extreme south of Chile had a 3.2% unemployment rate in the third quarter of the year, according to the latest Chilean Stats Office, INE, report. This is the second lowest in the country, behind Aysén Region and marks a slight drop compared to the immediate previous quarter June/July/August, 3,3%.
The most outstanding fact from the latest reading is that woman unemployment has dropped further and more intensely, with 2.3 percentage points less compared to the third quarter of last year and half a percentage from the previous mobile quarter.
"This means that ladies unemployment currently stands at 3.1% compared to 5.7% a year ago", said Carlos Abarzua Villegas, head of the region's Labor ministerial office, who also underlined the positive performance of the Magallanes region, based on a good understanding between the private and public sectors.
"If we look at the stats and review percentages, structural unemployment, we can see that we have had the lowest unemployment rates in the country for some time now and only in the last quarter have we had a mild difference with Aysen region" added Abrazua.
The official also underlined the significance of government employment, the second strongest behind commerce and retailing in Magallanes.
According to the official stats, the labor force in Magallanes reached 81.280 people, equivalent to 2.350 or 3% more than a year ago, Likewise compares to the June/August quarter, there is an increase of 900 people in the labor force, or 1.1%.