Argentine industrial activity contracts 6.1% in October compared to a year ago
Friday, November 28th 2014 - 05:58 UTC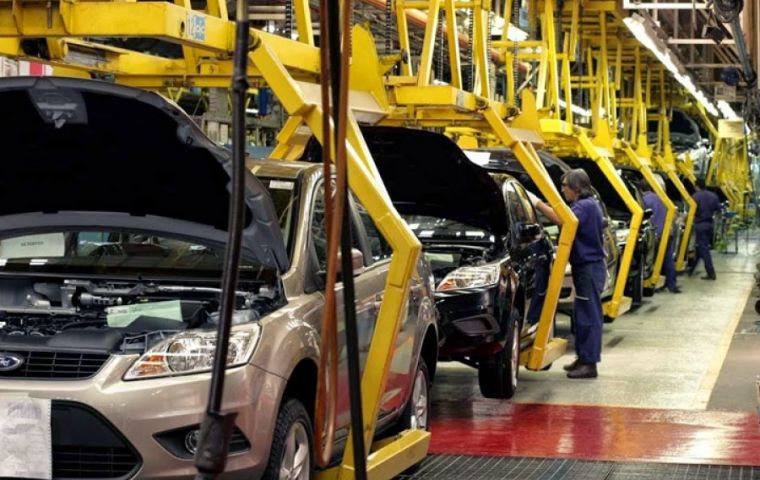 A private report revealed that industrial activity in Argentina dropped 6.1% in October compared to the same period last year, as the manufacturing sector continues to contract pushed by big drops in the auto industry.
The Latin American Economic Investigation Foundation (FIEL) indicated that in the first 10 months of 2014 production fell by 4.7% in comparison with the equivalent timeframe in 2013. October's figures were also down 0.6% on the previous month, unadjusted for seasonality.
"The rhythm of industrial activity will continue to be determined by the macroeconomic environment characterized by lack of foreign currency, the generalization of quantitative restrictions, the distortion of relative prices, higher costs and a fall in credits, the drop in employment figures and the deterioration of real incomes, although the contraction of industrial activity could be moderated," the foundation said in its report.
"In particular, the automotive industry will begin to face more modest production targets in the inter-annual comparisons, and as a result slow down the fall of the industrial production index in general."
The report did not give figures on the progress of different industrial sectors for October on an inter-annual basis. The Argentine state statistics agency INDEC will release its own figures for industrial production on Friday.
Meanwhile Indec revealed that Argentina's trade surplus hit 361 million dollars in October, a 39% fall compared to the same month of 2013. Exports in October reported incomes for 5.9 billion dollars, but both the units exported and prices were lower than the previous year (13% and 4% respectively).
Meanwhile, imports went up to 5.6 billion dollars. Units imported went down 19%, but prices increased 6%. During the first 10 months of 2014, Argentina's trade balance surplus hit 6.1 billion dollars, a 15% less than the same period of 2013.
For hard currency short Argentina, a trade surplus is essential to ensure the inflow of dollars to meet import bills including that of fuels and inputs for manufacturing.