Griesa rejects payment request from investors holding Argentine bonds in Euros
Friday, November 28th 2014 - 06:17 UTC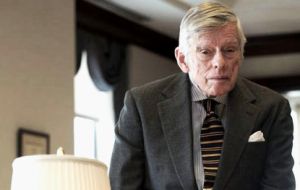 US Federal judge Thomas Griesa has rejected a request by European investors seeking payment on Argentine titles currently blocked in New York, despite an ongoing parallel court battle over the issue in London.
The magistrate overseeing the judicial dispute between Argentina and the speculative funds or also called vulture funds argued "I cannot make more exceptions," and ordered that the payment of interest for those bonds remain frozen in the Bank of New York Mellon.
This ruling contradicts an earlier resolution by the same judge, who had authorized 'one-time' measures allowing the payments to European bondholders following a Citibank request.
"Basically, the investors with bonds under Euro currency ask for an order clarifying that the injunction measure will not be applied for third parties. However this court denies granting the requested petition," Griesa ruled.
He considered that by doing so, "that would mean to start making important exceptions to the [earlier] sentence proclaimed by the Court, which was confirmed by the Second Circuit Appeal Court."
European bondholders wanted Griesa to delay his decision until a resolution by British courts.
An important group of investors led by George Soros' Quantm Partners, Master Fund Knighthead and Hayman Capital filed a petition before the UK Justice, demanding the payment of those bonds; an estimated figure at 226 million Euros.
Meanwhile in Buenos Aires Economy Minister Axel Kicillof said that 'vulture funds' will be more responsible than the Argentine government for whatever happens in January, once the RUFO (Rights Upon Future Offers) clause expires.
Kicillof again criticized the holdouts creditors for not accepting Argentina's offers.
"Some sort of scenario is being prepared for January, when the RUFO clause expires, it will be more a responsibility of vulture funds than the government's," the minister said to reporters in a joint press conference with cabinet chief Jorge Capitanich at Buenos Aires City Airport, before leaving for Brazil in an official trip.
Kicillof accused the holdouts of "not willing to negotiate, to reach a deal" and he stressed that they have refused several offers, "even one with a 300% profit margin."
The official said that Argentina's stance remains the same, and reiterated the government's willingness to "dialogue with everyone, to reach a deal in fair, legal, equitable and sustainable conditions."