Oil price plunges as OPEC decides against cutting output despite world glut
Friday, November 28th 2014 - 06:23 UTC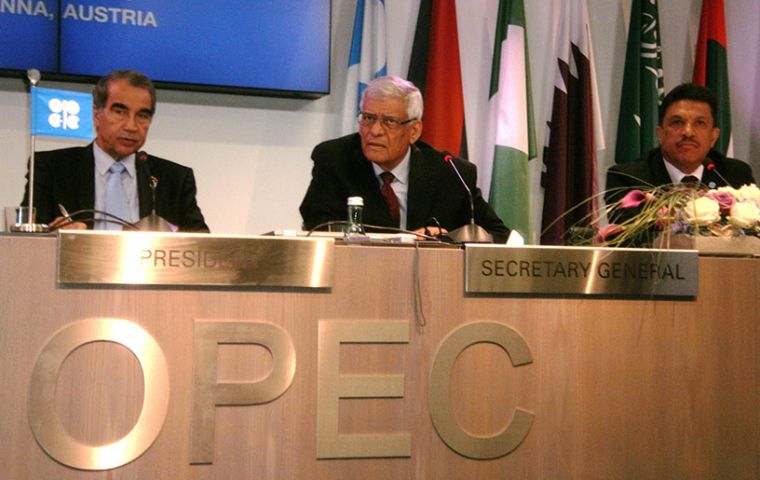 Brent and US crude oil plunged as much as 6.50 dollars a barrel on Thursday, the steepest one-day falls since 2011 following on OPEC's decision against cutting output despite a huge oversupply in world markets.
The OPEC cartel meeting in Vienna finally decided not to reduce production, which was confirmed by Saudi Oil minister Ali al-Naimi when asked whether the group had decided not to reduce production, he replied, "that's correct".
Oil prices have fallen by more than a third since June as increasing production in North America from shale oil has overwhelmed demand at a time of sluggish global economic growth.
Ministers from the Organization of the Petroleum Exporting Countries had been discussing at their meeting in Vienna whether to agree a production cut in an attempt to rebalance the global oil market.
Crude prices have been falling all week as traders and analysts scaled back expectations of an OPEC production cut, but the sharp dive after Thursday's meeting showed the decision was not fully priced in.
The cartel, whose largest producer and exporter is Saudi Arabia, will meet again in June next year, said an OPEC delegate.
Oil analysts said the OPEC decision left the oil market vulnerable to much bigger falls as abundant supply of high quality, light crude oil floods world markets, much of it from shale oil in North America.
"In the short term, given market skepticism that recent price levels are low enough to substantially slow U.S. output growth, we expect price levels to drop below 70 dollars/bbl for Brent and even lower for WTI (U.S. crude)," Barclays analysts said in a note.
OPEC said in a statement that members had agreed to roll over the ceiling of 30 million barrels per day, at least 1 million above OPEC's own estimates of demand for its oil next year.
The wealthy Gulf states have made clear they are ready to ride out the weak prices that have hurt the likes of Venezuela and Iran - OPEC members which face big budget pressures, but cannot afford to make cuts themselves. Venezuela and Algeria had calling for output cuts of as much as 2 million bpd.
Venezuelan Foreign Minister Rafael Ramirez said he accepted the decision as a collective one and hoped that lower prices would help drive some of the higher-cost U.S. shale oil production out of the market.
"In the market, some producers are too expensive," he said.
Gulf producers could withstand for some time a battle over market share that would drive down prices further, thanks to their large foreign-currency reserves.
Members without such a cushion would find it much more difficult, as would a number of producers outside the group. Russia's rouble, which has been sliding for much of this year, extended losses on Thursday to trade more than 2% lower than the previous close against the U.S. dollar.
A price war might make some future U.S. shale oil projects uncompetitive due to high production costs, easing competitive pressures on OPEC in the longer term.