A "Malvinas 'invasion' with women", Mujica proposes to the Argentines
Monday, December 1st 2014 - 09:44 UTC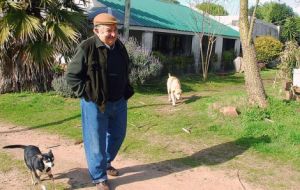 Uruguayan president Jose Mujica said that if Argentina wished to recover the Falklands/Malvinas Islands it should appeal to the "women" and an invasion of "mattresses and blankets".
The only way to win this match is with women. Cross the sea, marry them to locals. Yes an invasion with mattresses and blankets. It's not possible that a thousand guys dominate" and impede Argentina from recovering the Islands, the Uruguayan leader said in an interview with an Argentine newspaper.
Mujica insisted on 'invading' the Falklands/Malvinas 'with mattresses and blankets' and opening the gates of Argentina to the Islanders, "let them come to play football, mix, absorb them".
But "you have to absorb the people not the army. Now the Islanders are backed by tommies", points out Mujica. What strength could the tommies then have in the Islands?".
The popular president then revealed some of the problems he had to face when Falklands flagged vessels were banned from Uruguayan ports a few years ago as part of a Mercosur decision forced on partners by Argentine diplomacy.
"Oh, what a mess that was! I had the British ambassador and all others calling me...and well, I'm not after a fight with the British at this stage. Why should I pick a fight? I don't fight with nobody but there are moments when you are forced to opt; you're not left with much space to move", said Mujica.
And then "they come up with the argument of the need to defend the Falklands culture, and this and that. We haven't played well this match, my friend", admits the Uruguayan leader.
However the idea of 'invading' the Falklands with Argentine women, allegedly single women is not new or original. In effect some Islanders, in private, admit that in the late seventies and early eighties when the Islands were demoralized (after years of shared services with Argentina), and falling wool prices and losing population, if the Argentines instead of spying and gathering information to plan the 1982 invasion, had brought in women and created links with the continent, most probably those tragic events would have not reached that point.
Mujica has also been quoted in the Uruguayan and Argentine media stating in his colloquial style to the Argentines that "when your recover the Malvinas, then you'll have to deal with us, because originally during the Spanish empire, the Islands depended from the naval stockade in Montevideo, under direct command from the king in Spain, not from Buenos Aires. They didn't trust you".
On his side the reporter confessed to Mujica that before coming to Uruguay for the interview he met with former foreign minister Jorge Taina who described the Uruguayan president "as one of Argentina's best friends, and probably among the lesser few Uruguayans that understand what Peronism is and stands for".