Slow planting season cuts soybean production prospects for Brazil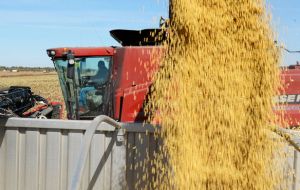 US officials joined market analysts cutting Brazilian soybean production prospects thanks to a slow planting season, but maintained expectations of a, small, rise in exports to a record high.
The US Department of Agriculture bureau in Brasilia pegged the Brazilian soybean crop, the world's second biggest after that of the US, at 92.0m tons.
While "still a record", and up 5.3m tons year on year, a harvest at that level would be 2.0m tons lower than the USDA's official estimate, which is up for revision in two weeks' time.
The forecast comes amid a series of downgrades by private analysts of the crop to account for a sowing season which, while making rapid recent progress – with Agrural estimating that as of last Friday farmers had planted 76% of their crop, only three points behind last year – made a slow start, thanks to dry weather.
The USDA bureau kept its forecast for sowings at 31.5m hectares but noting the sowing delay, and Weather problems across the country", reduced its yield forecast.
The revision follows downgrades from the likes of Michael Cordonnier, the respected crop scout, Oil World, which has forecast a sub-90m-ton crop.
Most other commentators are ground around the 91m-94m-ton range, with Conab, Brazil's crop bureau, foreseeing output of 89.3m-91.7m.
However, US-based Lanworth is still sticking by a far higher estimate, of 98m tons, terming Conab's forecasts, largely based on downbeat hopes for southern Brazil, as "unlikely" to be realized" without significant drought" in that part of the country.
For the southern state of Parana, Conab is forecasting a soybean yield "below last season's drought-impacted levels and the lowest since 2006", Lanworth said, forecasting itself an above-trend result in southern Brazil.
However, much may depend on the formation of an El Niño weather pattern, which Lanworth factored in as having a 70% probability, and which is linked to warmer and wetter conditions than normal in southern Brazil and northern Argentina.
The USDA bureau kept by its forecast for Brazilian soybean exports of 47.0m tons despite the drop in production, and the planting delays which, in implying a late harvest, would have a knock-on effect too on the early availability of crop supplies for shipment.
Nonetheless, that would represent growth of just 1.1% year on year, well below the 10-year average of 9.8%.
The slow sowing pace is also seen as a threat to the safrinha sowings of corn and, increasingly, soybeans planted as a follow-on crop, on land vacated by the harvest early in the calendar year.