Analysts anticipate 'painful adjustment' for Uruguay if there is a continuity of current policies
Wednesday, December 3rd 2014 - 09:31 UTC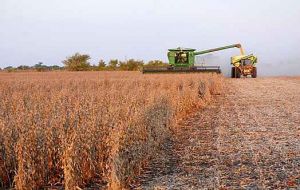 High inflation, relatively weak economic growth and an exhausted growth model are forecasted for Uruguayan president-elect Tabare Vazquez second administration as of next March, according to the latest report from two Capital Economics analysts.
Last Sunday Vazquez, candidate of the catch all ruling coalition Broad Front beat in the runoff his challenger Luis Lacalle Pou by an overwhelming twelve-point difference: 53% to 41%.
Describing Vazquez first mandate (2005/2010) as an "impressive economic track record" in which rising income from the commodities sector funded a boom in domestic demand, fuelling an average GDP growth of 6%, the report also warns that conditions are different
"The commodities boom, which supported strong growth in the past decade, has now ended. Prices of agricultural commodities and related foodstuffs, which account for three quarters of the economy's exports, have fallen by 30-40% since the start of 2012" points out the report plus the "economy is running 'twin deficits', meaning that there are no savings available to offset lower commodity revenues".
In effect, the budget deficit in currently 3.2% of GDP and the current account deficit, 6% of GDP, which added to lose fiscal policy and no lack of supply side reform, continues to fuel the inflation problem which is running well above the official target of 5% plus/minus two percentage points.
Capital Economics concludes that given Vazquez' promises of continuity and more social spending, and the Uruguayan economy running at full capacity, any attempt to bolster domestic demand most likely will generate more inflation and more strains in the balance of payments. Also meaning monetary policy sill remain tight.
"Our view is that policymakers need to tighten fiscal policy and pass supply side reforms to boost medium-term growth", says the report.
Likewise wage indexation is widespread in Uruguay and according to the IMF, as many as 90% of labor contracts are indexed, which contributes to high and persistent inflation.
"More generally, reducing the power of trade unions will help to ease labor market rigidities".
Thus "we expect GDP growth to average just 3.0% in the next presidential term, well down on the past decade average of 6.0%, while inflation is likely to remain high, and the economy's twin deficits will remain under pressure and this raises the prospect of an altogether more painful adjustment further down the line".
The report from Edward Glossop and David Rees coincides with local economists' forecasts and even Vazquez own words who in his first speech as president-elect called for a political accord to address: infrastructure, health care, education and the ongoing problem of security.
In effect, the road system in the country is virtually collapsed because of the lack of maintenance and improvements, since in the last decade, the volume of Uruguayan exports has more than doubled. Hopes of a railway and fluvial transport system remain a promise.
Similarly despite investing hundreds of millions in health care and education, the results are appalling; government payroll has increased by almost 25.000 new employees (anywhere from 10% to 14% of total staff) and the pensions' scheme remains in the red, even when eight points of the 23% VAT go to support it.
In effect, the prospect of a painful adjustment is down the line.
And from a political point of view, local analysts are already talking of a 'two-president country'. The ruling catch all coalition which extends from extreme left to conservative Socialists and Christian democrats have Vazquez in the Executive but also outgoing charismatic Jose Mujica in parliament where he holds a clear majority, and the two leaders don't necessarily think the same in quite a few issues as the last ten years are evidence.