Falklands' public opinion petition seeks to end 'distressing' flag-waving by visiting Argentines
Wednesday, December 3rd 2014 - 21:40 UTC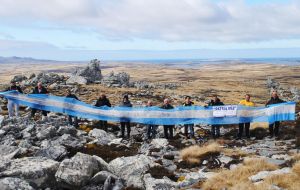 A petition demanding action from the Falkland Islands Government in relation to Argentine visitors displaying Argentine flags says the behavior by the culprits is "disturbing, unsettling and distressing to many Falkland Islanders", reports the Penguin News.
Created by Kris Thorsen the petition can be found at the Market Garden. It notes: "We are repeatedly reminded that appropriate legislation exists for The Royal Falkland Islands Police (RFIP) to act on behavior that is causing distress.
"The Argentine flag waving IS causing distress to many within our community, but yet the RFIP take no action".
"One of the chief concerns is that, "sooner rather than later a Falkland Islands resident will be provoked by this flag waving and will take the law into their own hands. No doubt this will cause at the very least a RFIP reaction."
The petitioners ask: We would like to know why:
- FIG is not being proactive in dealing with this inciting behavior?
- Why RFIP is seemingly not taking action on reported incidents, or
- When is FIG going to address the issue of introducing appropriate legislation (if this is the reason why RFIP are not able to utilize existing legislation) to stop the Argentine flag waving.
Penguin News asked the Falkland Islands Government when and how they would respond to the petition.
Speaking on behalf of MLAs, MLA Barry Elsby said they were aware, "of the offence caused when Argentine visitors wave Argentine flags, dress in military style fatigues or take other action suggesting they have sovereignty over us.
"MLAs support the right of people to undertake such action as a petition on matters such as this. However, it is important that MLAs are not seen to encroach on the decisions taken by the RFIP in relation to such actions by Argentine visitors."
He said they had raised their concerns about flag flying and suchlike with the Chief of Police and the Attorney General on a number of occasions.
MLA Elsby added "we also discussed the relevant law during the recent update to the Crimes Bill. We are assured by the Police and the Attorney General that the present laws are sufficient to address such flag waving incidents.
"MLA Short tabled an amendment in the last session of Legislative Assembly to strengthen this law. MLA Elsby supported his proposal but it did not obtain a majority and so was not accepted."
Finally, "we are sure that the Police and the Attorney Generals department will respond in the appropriate way to any further incidents".