Cristina's immunity when she steps down, becomes a political topic
Thursday, December 4th 2014 - 05:34 UTC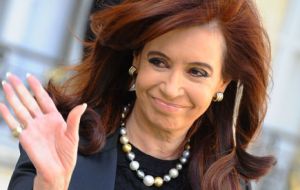 Argentine Cabinet chief Jorge Capitanich denied that a bill to choose the members of Mercosur Parliament (Parlasur) through popular vote had a hidden agenda for granting immunity for President Cristina Fernandez after 2015, as was denounced by Buenos Aires Clarin newspaper.
"A newspaper's headline that seeks to link a legislative initiative like the vote for Parlasur representatives with an alleged immunity for the president is a maneuver that deserves widespread condemnation," Capitanich said at his daily press briefing in the government house.
The newspaper accused the Cristina Fernandez government of pushing the bill, which aims to set the date for Mercosur elections in the same day of 2015 presidential elections, in order to guarantee immunity privileges to Ms. Kirchner once she leaves office, since it claims she would run for Parlasur.
Capitanich urged Clarin and La Nacion newspaper to "stop encouraging false debates." He said that the claims are "systematic and repeated lies." The official said that the goal of the newspapers' "baseless, cunning" headlines is "to attack the federal government."
The chief of ministers said if the president wanted immunity after 2015, this law "would not be necessary" since "she could be candidate for the Lower House just fine" keeping her immunity.
Given the alleged corruption scandals involving the president's family and her late husband Nestor Kirchner business associates, opposition in Congress had anticipated Cristina Fernandez will have to spend most of her time in court, or in jail once magistrates start investigating the 'illegitimate enrichment' of her family.
However it must also be said that the powerful Clarin media group, which has a virtual monopoly in some communications fields has been forced with new legislation passed by the Cristina Fernandez administration to split some of the companies and give up licenses enjoyed which ensured the group a 'dominant market situation'.
Argentina is scheduled to hold national elections next October, and Cristina Fernandez will step down 10 December, putting an end to her eight years in office plus the previous four from her late husband.