Falling oil prices comes as a blessing for dollar-short Argentina
Thursday, December 4th 2014 - 05:51 UTC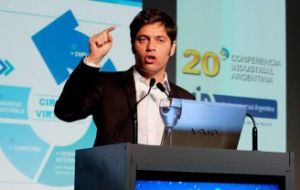 The slump in global oil prices will reduce Argentina's energy import bill by several billion dollars, a development that could ease pressure on the Central Bank's strained foreign-currency reserves, according to Economy minister Axel Kicillof.
Addressing an audience at the Argentine Industrial Union (UIA) annual conference, Kicillof said that he projected an energy deficit of 7 to 8 billion dollars this year, roughly one quarter of Argentina's hard currency reserves, which stand at just under 29 billion.
"The fall in prices is going to reduce the burden on the state's fuel purchases from abroad," Kicillof said on the sidelines of the UIA conference. Asked to put a figure on the reduction, Kicillof said the government was still crunching the numbers.
"There's a lot of uncertainty internationally over how this is going to pan out," he said. Some predict the savings could be in the billions.
"Assuming we have a normal winter ... Argentina could save about 2 billion in 2015," said Daniel Gerold, head of G&G Energy Consultants in Buenos Aires. The country's fuel export revenues would likely dip too, but not by nearly as much, Gerold said.
Such a saving would provide respite for the Argentine Central Bank that has already bolstered reserves by entering into currency swaps with China.
Argentina produces 90% of its energy needs, government data shows, and it imports the rest.
Argentine state-run energy company YPF forecast in September it would take up to a decade and as much as 200 billion dollars in investment to develop Argentina's nascent shale sector and erase its energy output deficit.
YPF CEO Miguel Galuccio earlier this week dismissed speculation that the world slump in oil prices would lead to a cut back of investment in Vaca Muerta, Argentina's promising shale formation that the government is counting on to become energy self-sufficient.