Argentina offers advance payment of 2015 maturing bonds to head off speculation
Saturday, December 6th 2014 - 00:30 UTC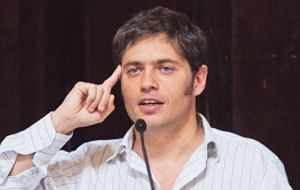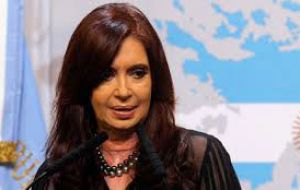 Argentina's government offered this week to make full early payment on a local dollar-denominated bond to head off speculation that its legal battle with U.S. hedge funds will make it unable to service its debt.
Economy Minister Alex Kicillof said at a press conference that holders of those 2015 Boden bonds, which are governed by local law and pay an annual interest rate of 7%, can come forward voluntarily between Dec. 10 and Dec. 12 and receive 0.97 on the dollar for the notes, which are due to mature in October 2015.
Alternatively, they can swap their Boden 2015 bonds for other notes that mature in 10 years and pay an annual interest rate of 8.75%. The government plans to issue an additional 3 billion dollars worth of those latter bonds, known as Bonar 2024.
Those who decide to hold their Boden bonds to maturity will receive their scheduled interest payments on April and October of next year, he added.
"They're trying to cast doubt on whether Argentina can service its debt next year ... We're going to halt all speculation and provide certainty to investors," Kicillof said.
"The aim is to curb speculation, to allow Argentina to follow its debt restructuring path and to provide investors holding Argentine bonds complete certainty," added the minister.
The outstanding amount of Boden15 bonds is 5.94 billion. Interest would take the payout to 6.7 billion.
The announcement comes prior to the start of a year when the ruling Front for Victory party will be in a presidential election battle and the government will face hefty debt maturities.
Earlier this year, Argentina was effectively blocked from making payments to holders of its sovereign debt who accepted steep haircuts in 2005 and 2010 debt restructurings, prompting rating agencies to declare the country to be in technical default.
US federal judge in Manhattan Thomas Griesa in 2012 ruled in favor of a group of hedge funds that refused to accept the discount bonds, which are governed by U.S. law, and demanded full payment on debt they acquired in the wake of Argentina's 100 billion debt default in December 2001.
As part of that same ruling, he also has barred Argentina from paying the exchange bondholders without simultaneously paying the holdouts.
Argentina's appeal of that decision reached the US Supreme Court in June, but the justices declined to hear the challenge.
Argentine President Cristina Fernandez's administration has refused to settle with the hedge funds, saying full payment to them of more than 1.3 billion would lead other holdout bondholders to demand the same, creating a potential liability of some 15 billion dollars, equivalent to roughly half of Argentina's foreign-exchange reserves.