US confirms Uruguay has received the six Guantanamo detainees
Monday, December 8th 2014 - 06:42 UTC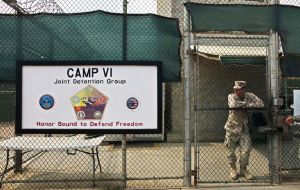 The United States Department of Defense announced on Sunday the transfer to Uruguay of six detainees from the Guantanamo Bay facility in Cuba, a long announced event which was postponed several times allegedly because of bureaucratic delays in the US and controversy in Uruguay.
According to the official release. "the Department of Defense announced today (Sunday 07) the transfer of Ahmed Adnan Ahjam, Ali Hussain Shaabaan, Omar Mahmoud Faraj, Abdul Bin Mohammed Abis Ourgy, Mohammed Tahanmatan, and Jihad Diyab from the detention facility at Guantanamo Bay to the Government of Uruguay.
"As directed by the president's Jan. 22, 2009, executive order, the interagency Guantanamo Review Task Force conducted a comprehensive review of this case. As a result of that review, which examined a number of factors, including security issues, these men were unanimously approved for transfer by the six departments and agencies comprising the task force.
"In accordance with statutory requirements, the secretary of defense informed Congress of the United States' intent to transfer these individuals and of his determination that this transfer meets the statutory standard.
"The United States is grateful to the Government of Uruguay for its willingness to support ongoing U.S. efforts to close the Guantanamo Bay detention facility. The United States coordinated with the Government of Uruguay to ensure these transfers took place consistent with appropriate security and humane treatment measures.
"Today, 136 detainees remain at Guantanamo Bay", concludes the brief release.
In Uruguay the issue has been controversial since all indicates that it was a personal decision from Uruguay's president Jose Mujica, questioned in private by his ruling coalition, and condemned by the opposition, despite efforts from outgoing US ambassador Julissa Reynoso.
In effect, the two main opposition political parties were against the transfer mainly because a decision of that nature for a small neutral country was a matter of state and foreign policy and should have been consulted with the Legislative.
Likewise even when Uruguay has had a long established and respected policy of giving refuge to dissenters from other countries, political leaders pointed out that the issue was one of the US, should not involve Uruguay, and if the detainees are not dangerous, 'why not release them in the US or wherever they were caught'.
However Mujica insisted that the inhumane conditions of detention, for years with no trial, and the fact that the Obama administration was trying to close down Guantanamo, a shameful issue for any democratic country, merited support. Mujica said the detainees were suffering 'atrocious kidnap conditions' and our only and main reason is 'humanitarian'.
The issue was so controversial that the final transfer decision was delayed until after the two round presidential election in Uruguay (October 26 and November 30). Uruguay has also received an estimated 120 civilian refugees, mostly women and children, from Syria, under UN supervisions.