"Kicillof's economy post still too big for him, but he has changed a lot in a year"
Tuesday, December 9th 2014 - 08:52 UTC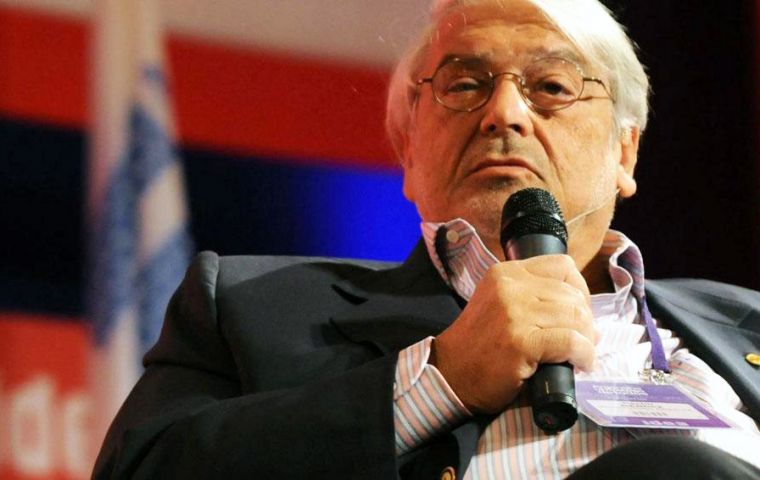 The head of the Argentina's powerful manufacturing lobby, UIA, Hector Mendez fired harsh words against Economy Minister Axel Kicillof stressing "his post is still too big for him", but admitted he 'has advanced' in the last twelve months.
In statements to Rock & Pop radio station, Mendez said however he was pleasantly surprised as "he (Kicillof) has changed a lot in one year, although regarding the management of the financial crisis, it's been the same."
"He is a well-prepared person, but sometimes ideology dominates intellect," he added. "He is proving he can be a minister, but that post is still too big for him, he needs more experience" he stressed. However "now he listens, before he would sulk and feel he had the only truth possible".
Mendez admitted that Kicillof makes huge efforts to face the demands of the job, but being "Economy minister is an enormous responsibility and has many complications".
Kicillof "needs more experience, he's surrounded by people with his same conditions, too much youth in his team, and there's that ideology component which I do not support, rather reject".
Nevertheless this year Kicillof changed his attitude and speech 'for the good side', so now "some of the things he says, I rethink about them".
Asked about his relation with President Cristina Fernandez, the head of the UIA said "it's in good terms" and admitted that the business community is concerned that with the end of 'Kirchnerism' all these years "could be rolled back".
"This has been a government with a clear industrialization objective. With Nestor (Cristina's husband and previous president) a period of growth in the manufacturing sector took off and "we don't want a return to a situation which sets back industry".
As to relations with former president Kirchner and Cristina, Méndez said he has better dialogue with the current president, but "she's tougher, more adhered to principles, while the husband was a clear negotiator".
Finally Mendez said that Cristina Fernandez must end her presidential mandate, in a stable environment, "but must not be re-elected".