Falklands' sovereignty bilateral talks requested by leaders' summit in Mexico
Wednesday, December 10th 2014 - 08:02 UTC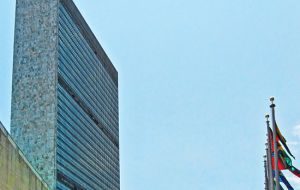 Argentina managed to include a special statement on the Falklands/Malvinas question, at the end of the Ibero American leaders summit held in Mexico, calling on both sides of the dispute, Argentina and the UK, to resume negotiations, in the shortest time possible, to reach a peaceful solution to the sovereignty dispute over the Malvinas, South Georgia, South Sandwich islands and surrounding maritime spaces.
Negotiations should be in the framework of resolutions from the United Nations, Organization of American States including the principle of territorial integrity.
The leaders also underline Argentina's standing willingness to dialogue with Britain over the question.
There is also mention to UK's unilateral actions regarding exploration and exploitation of renewable and non renewable resources, "on which the UK has been advancing in the disputed area" and remind that the international community has repeatedly called for abstaining from adopting decisions which mean unilateral modifications to the situation in the Malvinas Islands, in conformity with Resolution 31/49 from the UN General Assembly, 'which in no way contribute to reach a definitive solution to the territorial dispute'.
The statement also refers to the UK's military presence in the disputed area, which at the same time infringes Resolution 31/49, is incompatible with the policy of reaching a peaceful solution to the territorial controversy between Argentina and the UK.
To that respect there is mention to the successive UN General Assembly resolutions calling on the Secretary General to continue with its good offices so that negotiations resume with the purpose of resuming negotiations leading to finding in the shortest time possible a peaceful solution to the referred disputes.