Argentine argues before NY Appeals court the central bank is not an 'alter ego' of the administration
Thursday, December 11th 2014 - 11:29 UTC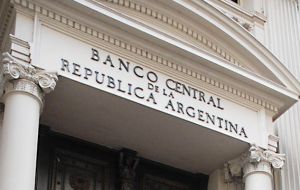 Lawyers representing the Argentine government and the Central Bank have defended the country's stance on the debt conflict in a hearing with the New York Second Circuit Appeals Court, rejecting the notion that holdout investors could confiscate reserves or assets belonging to the financial entity.
A three-judge panel heard the Central Bank's appeal against the request from hedge funds to embargo funds, upheld by New York district magistrate Thomas Griesa, as part of ongoing efforts by holdout investors to claim payment on debt defaulted on during the 2001 economic crisis.
According to holdouts such as NML Capital and EM, the Central Bank is liable for embargo due to its links with the President Cristina Fernandez administration, which has refused to negotiate with creditors who did not enter debt restructuring in 2005 or 2010.
The entity led by Alejandro Vanoli, the court heard, is an "alter ego" of the Argentine state, having fallen under "the government's grasp".
"The government controls all of the Central Bank's daily activities and removes directors who are not in line with its ideology," lawyers for the holdout funds argued.
The Argentine legal team, on the other hand, said that the accusation of "insufficient independence" was not grounds for embargo, as that did not constitute "a synonym for an alter-ego" between the authority and the government.
According to Argentina's lawyers, measures such as using Central Bank funds to pay international debt or changing the institution's president could not be considered as proof that it worked as another arm of government.
Central bank attorney Joseph Neuhaus also criticized the original Griesa ruling, accusing the magistrate of basing his decision on "newspaper articles" devoid of concrete evidence.
The Appeal Court will now decide whether to support the original ruling, while on December 17 the two parties will hold a new meeting in judge Griesa's chambers.