Busy weekend in Ushuaia for Antarctica cruises: 1.249 visitors
Thursday, December 11th 2014 - 12:16 UTC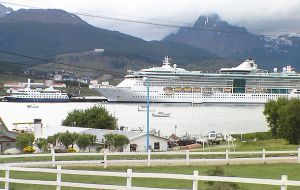 Over the weekend 1.239 visitors in six luxury cruise vessels landed in Ushuaia en route to Antarctica according to local reports from Tierra del Fuego, to which must be added another two that called in on Monday and Tuesday.
Among the vessels named are the French Le Soleil with 264 passengers. This is her third call to Ushuaia and she is expected back on 18 December, plus other visits during January and February.
Last Saturday, Sea Spirit with 127 passengers called in at Ushuaia and on Sunday Sea Adventurer with 141 visitors. A 'normal' cruise called on Tuesday en route to Valparaíso, Marina with 1.250 passengers.
Ushuaia's cruise season normally begins from September and concludes at the end of April, with calls from forty different ships including yachts and mast vessels interested in visiting Antarctica
Cruise visitors represent over 50% of Ushuaia's annual tourism numbers, "which makes it a strategic and internationally positioned destination", according to Gianfranco Guardamagna, head of Tierra del Fuego Tourism Institute.
"All this traffic generates port activity as well as promoting commercial and hotel income, which is very welcome and we must promote", said the official.
"All the cruise vessels which arrived over the weekend headed for Antarctica, which confirms Ushuaia as the gate to the 'white continent'", concluded Guardamagna.