OAS will vote for new Secretary General on 18 March 2015: Insulza steps down after a decade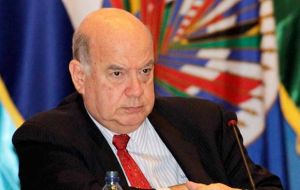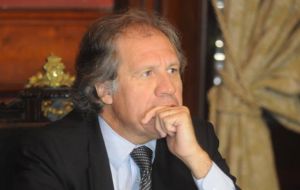 Member states of the Organization of American States (OAS) agreed that the next Assistant Secretary General will be elected on the same day as the election of the next Secretary General, 18 March 2015. The initiative was approved during Wednesday's regular meetings by the OAS Permanent Council.
The vote will be held in a Special General Assembly at 21:00 GMT, following the election of the next Secretary General at 15:00 GMT. In the past the two elections took place on separate dates.
Current Secretary General Jose Miguel Insulza second five-year term comes to an end on 26 May 2015 after a decade on the job. Candidates who have expressed an interest in succeeding Insulza include Uruguay's foreign minister Luis Almagro, and Guatemalan diplomat Eduardo Stein with a long career as foreign minister, vice-president and head of delicate OAS missions to Peru and Honduras during traumatic political transition processes.
A non written OAS rule respects alternating southern and northern hemisphere secretary generals, and since Insulza is Chilean, Almagro's chances could be limited despite the international reputation Uruguay has achieved under President Jose Mujica.
Furthermore a Mexican hopeful should not be discarded and some of the names mentioned include Alicia Bárcena, currently head of the UN Economic Office for Latam and the Caribbean, Eclac. She was also cabinet chief of former UN Secretary General Kofi Annan.
Another possible Mexican candidate is Emilio Rabasa, ambassador before OAS, with a long diplomatic tradition in the family and responsible for elaborating a paper for OAS on the proliferation of regional groupings (Unasur, Celac), and how to better exploit the 'added value' of the longest existing hemispheric organization.
The OAS Permanent Council also received a report on the results of the 24th Ibero-American Summit in Veracruz, Mexico, in which Secretary General Insulza participated, and to which the Heads of State and Government of the Americas and the Spanish and Portuguese-speaking countries of Europe were invited.
The Permanent Representative of Mexico to the OAS, Emilio Rabasa, who presented the report, highlighted that "the challenge of our nations for this Summit in addition to the preservation and promotion of the cultural patrimony, was to associate this enormous cultural heritage with social well-being."
The Permanent Representative of Mexico said that during the event "progress was made in the composition of a digital cultural agenda for Ibero-America that will contribute to the consolidation of an Ibero-American cultural space, and its insertion into global information networks," among other results.