State Dept. document assuring Uruguay Gitmo inmates innocent disclosed
Wednesday, December 17th 2014 - 07:38 UTC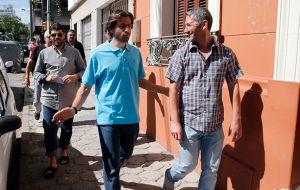 Uruguayan president produces US-signed evidence to calm down opposition. Refugees adapting gradually to life in Montevideo.
President Jose Mujica said on Tuesday he had been assured by the United States that the six "refugees" Uruguay agreed to bring in from Guantanamo Bay -one Palestinian, one Tunisian and four Syrians- had not been involved in acts of terrorism before their arrival on December 8.
"I knew out of common sense that these people were [not guilty]," Mujica said at a press conference, where he he showed a document from the US State Department signed by Clifford Sloan and dated December 2, stating that there was no information that "the men were involved in conducting or facilitating terrorist activities against the United States or its partners or its allies."
Sloan, who was in charge of the closing of the Guantanamo Bay detention facilities in Cuba, acted as a liaison to the Uruguayan government in the humanitarian efforts.
Mujica said the six former prisoners were being given help getting established in the country and a first step in that direction was to produce the evidence requested by members of the political opposition to prove that they are not dangerous.
After medical check-ups, the men have been in Montevideo as guests of a major labour union. Four of them were seen strolling through Uruguay's capital last week. The former detainee with the greatest physical problems is Abu Wael Dihab, who had carried out a hunger strike and is using crutches. Some of them have begun taking Spanish lessons.
According to the Associated Press, the six men were detained as suspected militants with ties to al-Qaeda in 2002 but were never charged. Cleared for release since 2009, they could not be sent home and the US had struggled since then to find countries willing to take them.
Mujica added that before accepting the Guantanamo Bay inmates, he checked mano-a-mano with Cuban President Raúl Castro, who gave him the green light.
The Uruguayan head of state said he had never doubted the men were victims of the system and he recommended reading former Pakistan president [Pervez] Musharraf's autobiography, which reports on the sale of innocent people to the United States.
Mujica considered the way the men were flown into Uruguay "outrageous". They were in handcuffs until local authorities requested that they were released before getting off the airplane.
Bringing the men into Uruguay was for Mujica a matter of "principle in a world where decisions of principles are not made."