Deported Uruguayan murderer defies ban, returns to Argentina
Thursday, December 18th 2014 - 02:53 UTC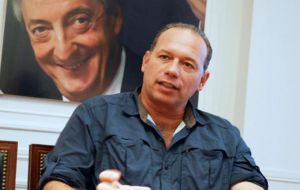 A convicted murderer and robber of Uruguayan nationality sentenced to life imprisonment and deported back to his country in 2008, ends up arrested one again in Argentina. Should he be sent back home yet again or go back to jail? Judges silent.
A Uruguayan national by the name of Rafael Fabian Beguerie Flores, who was in 2004 found guilty by an Argentine court to life in prison of armed robbery and murder, and was deported to Uruguay in 2008 after serving 15 years of his life sentence and banned from returning to the country, was arrested on Wednesday in the Buenos Aires suburb of San Martín.
"We want a judge to try him. Nobody knows when, with whom and with what documents he [crossed the border]," Security Secretary Sergio Berni said in a press conference. ¨But no judge seems to be interested in investigating, while the Immigration Authority tells us to just send him back home", he added. "This is a mockery". Immigration authorities gave the police up until Wednesday night to obtain an arrest warrant or deport Beguerie Flored once again.
Berni explained that "there are several rulings from different courts specifying that if a convicted criminal "is expelled from the country and he returns he is to fulfill the remainder of his sentence, but it would seem that as far as the Argentine judiciary is concerned he can walk around freely."
According to national correctional authorities, Begueri Flores is "considered extremely dangerous", and called for a judge to issue an arrest warrant to keep him in custody. Otherwise, he will "go free", Berni lamented.
Berni has seen his notoriety increase over the past few months for his allegations that foreign criminals go to Argentina for the laxity of its judicial and penal system.