Sexual abuse scandal hits Argentine Air Force Academy
Tuesday, December 23rd 2014 - 06:09 UTC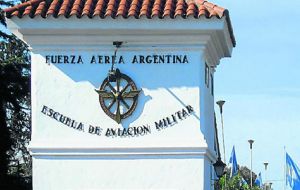 Male 23-year-old cadet discharged, turned over to the courts over two allegedly proven cases of rape and at least five other attempts against junior ranking women.
Two female students at the Argentine Air Force Academy in Cordoba filed reports of rape against a senior cadet and at least five others claimed to have been victimised by the same perpetrator.
"There were several cases, two of them of consummated rape and five others currently under investigation," federal prosecutor Enrique Senestrari said. He added that the suspect was discharged from the force and brought to justice. "The main evidence against him is the testimony of the young girls who found the courage to come forward and told a very strong, inequivocal case," Senestrari added.
The victims explained the perpetrator pulled ranks on them with threats of reporting false misdeeds or even thefts that would have resulted in them being expelled from the force. "Like in any case of gender violence the women went through a process during which they found it hard to accept that they were the victims," the prosecutor explained.
There are 300 men and 30 women in that Air Force facility.
"The circle of abuse was the same one that repeats itself in these cases - guilt, passing responsibility onto the victim, fear and power relationships based on hierarchy and trammeled by gender issues," he explained.