Katia Abreu to become Brazil's new Minister of Agriculture
Wednesday, December 24th 2014 - 12:23 UTC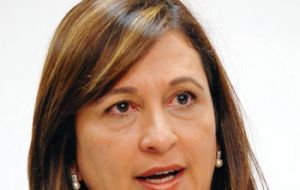 Other members of cabinet announced for Dilma's next term due to start on January 1.
Brazil's President Dilma Rousseff named Senator Katia Abreu, a high-profile politician who has vocally defended farmers from claims they cut down the rainforest, as the country's new agriculture minister on Tuesday.
Abreu is reportedly the first woman in the leadership of Brazilian agro-business, a sector that represents 24% of the Gross Domestic Product (GDP), it employees 37% of the work force and generates 36% of the exportations, Kátia Abreu defends the restructuring of Brazilian rural, where it is able to guarantee the security of income to Brazilian producers.
An advocate for the strengthening of free enterprise, Abreu considers a solid infrastructure in ports and waterways to be vital for the country's growth. She deems education just as important. "Only education guarantees the independence and the progress of people," she has been quoted as saying.
She has also be known to be in favour of public spending control, a decrease in taxation and a more just redistribution of resources and functions among cities, states and the federal government.
Abreu became a farmer herself at age 25 in the state of Tocantins in central Brazil. Pregnant and already with two small children, she took over the Aliança Ranch in 1987 after her husband died in a plane crash. Abreu worked her way up the political ladder and was elected a senator in 2006.
She advocated for reforming a set of laws dictating the minimum amount of woodland to be left intact on farms, arguing that the old "forest code" held back investment in a sector that accounts for a quarter of Brazil's economy.
After changing the law in 2012, Brazil confirmed a 29 percent spike in deforestation in 2013, the first since 2005. Activists accuse Rousseff's government of failing to punish illegal tree felling by loggers, ranchers and other developers. Abreu also supported a measure in 2009 to normalize land ownership rights in the Amazon that environmentalists said would lead to more clearing of trees. Greenpeace dubbed her "miss deforestation" that year.
Abreu once opposed Rousseff's Workers' Party and former President Luiz Inacio Lula da Silva, who she criticized for awarding too many jobs to party members. She later grew close to Rousseff, Brazil's first female president. Abreu will be the country's first female agriculture minister.
The president's relationship with Abreu has drawn criticism from traditional party allies such as the landless peasants movement (MST) who say too much of Brazil's farmland remains in the hands of a powerful minority and have held protests against her in recent weeks.
But Abreu, a frequent newspaper op-ed contributor, is known for defending small family farmers as well as large-scale soy plantations that have carpeted Brazil's interior over the past two decades.
She reported crying after seeing testimony from subsistence farmers who police evicted from an indigenous reservation in Mato Grosso in 2012 and supports changing Brazil's constitution to limit the amount of land set aside for native tribes.
The other choices by Roussef are, according to Folha de São Paulo: Aldo Rebelo (Science), Cid Gomes (Education), Eduardo Braga (Mining and Energy) Eliseu Padilha (Civil Avation), George Hilton (Sports), Gilberto Kassab (Urban Planning), Helder Barbalho (Secretary of Fisheries), Jacques Wagner (Defence), Nilma Lino Gomes (Promotion of Equal Racial Equality), Valdir Simão (General Comptrollership) and Vinicius Lajes (Tourism).