Exceptional year 2014 for Argentina's YPF
Friday, December 26th 2014 - 06:17 UTC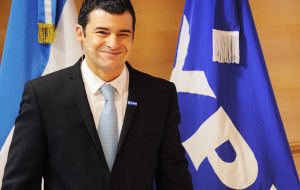 The CEO of the state-owned oil company YPF Miguel Galuccio has assured that 2014 "was an exceptional year" in terms of growth and investment. He pointed out that every goal for the year had been achieved.
"It has been an exceptional year for us. We have achieved everything we set out to," Galuccio said. "We reached deals with Petronas, with Pampa Energia, we bought Petrobras' area and we readied the coking plant," he added.
"YPF had a very good year," he stressed. "We have worked hard." The official said that u$s 6,000 millions have been invested and that there was a "30% growth in oil and gas production."
Galuccio also spoke about his expectations for 2015: "It will be a complicated year in terms of the international scenario. A storm is coming and we will need to weather it," he explained. However, he pointed out that "nothing has changed."
"When you have a goal like this, which is to regain energy independence, the important thing is not to lose sight of where you are headed," Galuccio stressed.
YPF cashed in 38.209 million Argentine pesos in the third quarter of 2014, 57.6 % above last year's figures for the same time spell. Domestic natural gas sales, which went up 86% and those of refined fuel, which soared 64%, account for most of the change in income, with a net profit of 3212 milliones pesos, that is to say 127.2 % above the third quarter of 2013.