Maduro makes diplomatic changes, sends separate letters to Castro brothers
Saturday, December 27th 2014 - 06:27 UTC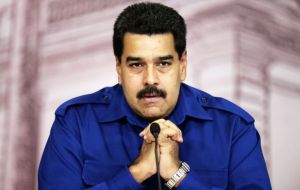 Rafael Ramirez new ambassador to the UN, Rivas Alvarado to ALADI and Mercosur. Delcy Rodríguez new chancellor. Letters to the Castro brothers in which he speaks of a "change of era" published in Havana.
Venezuelan President Nicolas Maduro has appointed Rafael Ramírez as his country's new ambassador to the United Nations to replace Samuel Moncada. Delcy Rodriguez will be Ramírez's successor as Foreign Minister and named Jose Felix Rivas Alvarado for the position of ambassador and permanent representative before Mercosur and the Latin American Integration Association (ALADI), it was announced Friday in diplomatic circles. Meanwhile, Colombia's ambassador in Caracas, Luis Eladio Pérez, is to leave his post on December 31 following his untimely statements regarding the murder of a Chavist deputy.
In separate letters addressed at Fidel and Raul Castro dated December 20, Maduro referred to the new state of affairs between Cuba and the United States, who last week agreed to resume diplomatic relations. The Venezuelan president described this as an "important step" and that Washington understands the "change of era" taking place in Latin America, it was reported Friday.
"There is still a long way to go to have Washington recognise that we are no longer their backyard and bring the criminal blockade against the homeland of (José) Marti and Fidel to an end," stressed Maduro. "Nevertheless, I think this is a very important step to make the United States understand that here in our land, there is a change of era, that the Patria Grande has changed forever and it will not go backwards," he said in the letter to Raul.
In the letter to Fidel, Maduro underlined that the release of secret agents had been a "great victory," as they were "apostles of Cuban and 'Ouramerican' dignity." Maduro also wrote: "Let me also celebrate this new victory that life has granted you with greater justice," but he didn't comment on the twist of events from the American standpoint.
Maduro's letter to "The Five," as the group of incarcerated agents was known, dated December 22 in Caracas had already been made public earlier this week. The release of the last three members of that group last week was the result of secret negotiations held in Havana and Washington for more than a year to restore relations.