Cotroversial two-part Top Gear Patagonia special aired on BBC2
Monday, December 29th 2014 - 05:32 UTC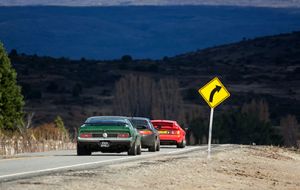 Critics agree only the segment where the crew is chased and thrown stones at by angry Argentines has some 'action'. The rest is the usual Top Gear travelogue.
The controversial two-part Patagonia episode of the decade-old Top Gear show, specialized in motoring issues, was aired by BBC2 Saturday and Sunday.
The case had gained fame when the hosts -Jeremy Clarkson, Richard Hammond and James May- and crew were hounded out of Argentina by an angry mob, which was particularly sensitive to the numbers (and letters) of the plates of Carkson's Porsche: H982 FKL, which were instantaneously linked to the 1982 Falklands War.
Clarkson had told The Sun, for whom he writes a regular column: "We knew absolutely nothing about the number plate, it was just an unbelievable coincidence. I swear on my kids' lives." It had all begun smoothly when the BBC team landed in Buenos Aires on September 17.
"The truth is the first time we realised the plate could be a problem was on the third night of our shoot in Argentina (19 September, I believe), when Jeremy was scrolling through Twitter and spotted a comment on one of the auto fan sites, next to a photo of the plate . I remember his surprise and concern," said Andy Wilman, Top Gear producer.
Days went by as shooting progressed from Bariloche ("a haven for Nazi war criminals," as Hammond noted) southwards through Chile and back into Argentina to reach Ushuaia, which claims to be the southernmost city on earth is both the capital of the province of Tierra del Fuego and the port of departure in 1982 of the battleship General Belgrano on its final voyage.
"When we saw people on Twitter getting upset we took the plate off. But they still attacked us so we made a break for it to our hotel in Ushuaia," Clarkson said. Still, the plates were put back in place once in Ushuaia, "Go looking for trouble and you just might find it," wrote Christopher Stevens for London's Daily Mail in his review.
Clarkson, notorious worldwide for upsetting people everywhere he goes, said in Part 1 it was the new, clever him. When confronted with a roadsign that read that the Malvinas are forever Argentina's, Clarkson said: "See this. It's a straight face. I will not spark fury on this trip." There were no further mentions of historical frictions between Britain and Argentina. "Even Maradona's 'hand of God' goal incident in the 1986 world cup went unrecalled," explained Stevens with reference to part one, which was of "no entertainment value at all."
Clarkson himself had tweeted earlier: "Tonight is really normal Top Gear. Tomorrow night is where it all goes bonkers."
The concluding part, though, proved things had become serious in Tierra del Fuego in September. Angry Argentines were shown hurling eggs and stones as the Top Gear convoy as they high-tailed it out of the country.
The closing credits looked like a gag – and a good one at that – with the trio replicating the famous closing scenes of Butch Cassidy and the Sundance Kid and the credits listing every member of the Top Gear team with the prefix Robert Leroy (Robert Leroy Parker being Cassidy's real name).
"But was it all also a fudge?," wondered Gerard O'Donovan in his writeup for the Telegraph. "They really were in South America to play car-footie with a bunch of waiting Argentineans – where presumably many insults would be hurled, but no rocks."
The three cars the hosts were driving had to be left behind at Tolhuin, a small village in Tierra del Fuego. Clarkson later denied having tried to set the cars on fire but that's what they ended up telling the local police in whose custody the vehicles were placed.
After the incident, Argentine Ambassador to London Alicia Castro filed a letter of complaint to the BBC. "Did the team actually know what they were getting up to?," she said. The letter remains unreplied to this date.