Maduro loyals appoint new TSJ Justices in Venezuela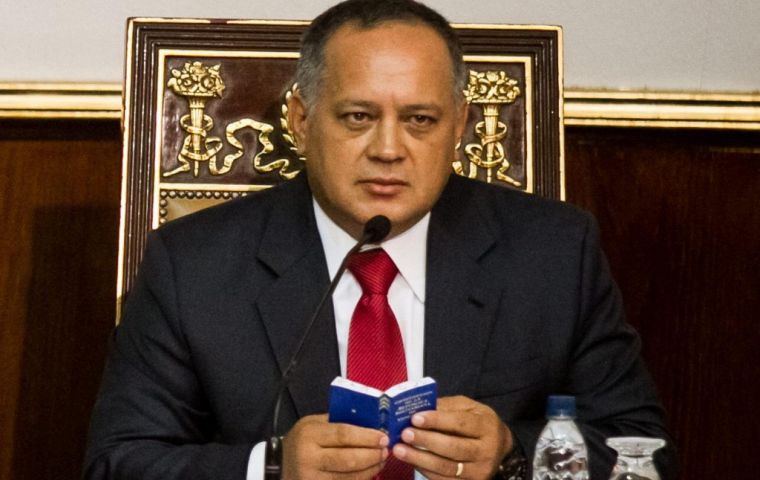 No agreement reachable with opposition in three previous sessions. Nominations Committee must continue working.
The parliamentary majority loyal to Venezuelan President Nicolas Maduro has appointed on Monday virtually alone the judges of the Supreme Tribunal of Justice (TSJ) as no agreement was reached with the opposition in three previous sessions.
The Nominations Committee which selected the judges, between members and alternates, must continue working, because there are several judges who will soon finish their term, said the Legislature's Speaker, Diosdado Cabello.
Deyalitza Aray, on behalf of the Democratic Unity Roundtable (MUD), which brings together much of the opposition, said that the minority of anti-government members refused to vote so as not to endorse "the wicked, rude and abusive withdrawal of public authorities" blaming the government of Maduro.
The 99 legislators loyal to President Maduro relied Sunday on the support of two opposition legislators, critical of both the government and anti-government alliance, while the majority of the opposition refused to vote.
Neither party has two-thirds of the total of 165 seats in the National Assembly to secure the nominations.
The TSJ last weekend filled vacancies within the National Electoral Council (CNE). "There are sectors that are talking with the Government but not informing other parties," said the head of the opposition party COPEI, Roberto Enriquez.
After learning that the renewal of the CNE included opponents, the former MUD presidential candidate Henrique Capriles speculated via Twitter on whether the "opposition" would accept the unconstitutional appointment of the CNE through the TSJ.
Capriles particularly referred to Pablo Duran, who until recently was the head of his own party, Primero Justicia (Justice First), and who finally declined to be a member of CNE, said the executive secretary of the opposition platform, Jesus Torrealba. According to the pro-Government minister Pedro Carreño, Capriles and other leaders of Primero Justicia party forced Duran with blackmail and extortion to renounce the CNE, because they are seeking to destabilize the country.
---