Uruguay watching Russia's 'perfect storm' closely
Tuesday, December 30th 2014 - 07:53 UTC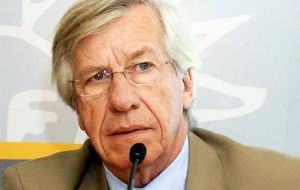 Uruguay's Economy Minister Mario Bergara and Vicepresident Danilo Astori agree on how Russia's situation will affect the South American country's trade balance and whether it may or may not have a direct impact on beef exports.
Russia is going through its worst economic crisis since 1998, the ruble dropping 50% against the US dollar. Russia's Central Bank has already increased interest rates and President Vladimir Putin has warned that people should get ready for two tough years ahead, following the plummeting of oil's international price.
Still, the Putin administration finds the reason to its problems in the sanctions imposed by the United States and the European Union for its intervention in Ukraine. To make matters worse, these measures are not to be lifted for as long as Russia continues to support Kiev's rivals.
The latest measures involved the application of limits on financial access to bank Sberbank which controls 25 % of banking assets in the country. Last week, Russia had to disburse 530 million US dollars so that Trust Bank, for whom actor Bruce Willis has been campaigning, would not halt operations.
Russia's finance minister Anton Siluanov said on Monday that in 2015 the GDP might shrink by 4% and the budget deficit could be 3% as a consequence of the falls of the price of oil and the ruble and called for further budget cuts.
Saxo Bank's chief economist Steen Jakobsen has said Russia was under "a perfect storm" which might lead to "state companies or to the very government falling selectively into a default."
Last week, Bergara explained that "everything points to oil price being at its lowest in the past eight years," which could be beneficial for Uruguay as an importer of oil. "But the drop in oil price can impact the demand on commodities," like in the case of Russia, who buys beef from Uruguay. He also explained that the world is moving to a higher dollar as a result of monetary policies from the Federal Reserve.
Astori concurred and added that the price of oil is "a new geopolitical factor." He also said that regardless of what happens with Russia, Uruguay is well prepared for the coming years because it has diversified the markets to which it exports its goods.
When President-elect Tabare Vazquez takes office on March 1, Astori will become Uruguay's new economy minister.