Legal framework to restructure sovereign debts receives strong UN boost
Wednesday, December 31st 2014 - 02:33 UTC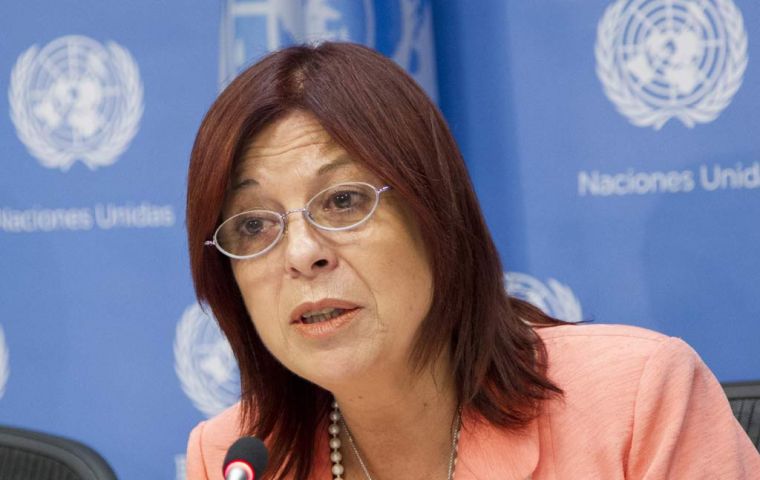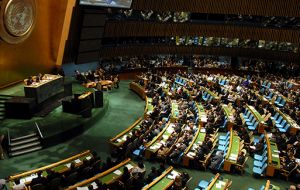 The U.N. General Assembly approved this week the financing of a plan to develop a new legal framework to restructure national debts, a move aimed at avoiding the kind of speculative action that led Argentina to a second default.
The 193-member world body voted 119-15 with 35 abstentions in favor of a resolution outlining the plan, which was proposed by developing countries and strongly supported by Argentina. The United States, Britain, Japan, Switzerland and Canada were among those voting "no." The vote received extensive coverage in the US main newspapers such at The New York Times and the Washington Post.
Under the plan, the General Assembly beginning February will establish a committee open to participation by all member states to negotiate a legal framework during the current session, which ends next September. It invites other U.N. bodies, financial institutions like the World Bank and International Monetary Fund, the private sector, academia and others to contribute to the committee's work.
The resolution adopted Monday will implement a resolution also approved overwhelmingly on Sept. 9 calling for the General Assembly to adopt a new legal framework on debt restructuring.
Argentina has been involved in a long legal battle with U.S. creditors over bonds left over from the country's record 100 billion dollars default in 2001. It was declared in technical default in July for the second time in 13 years after a U.S. judge ruled in favor of holdout creditors who were owed some 15 billion and insisted on payment in full while refusing to provide Argentina with debt relief.
Argentina's U.N. Ambassador Maria Cristina Perceval told the General Assembly that the resolution adopted Monday "is not for Argentina, but rather for Argentina and other developing and developed countries that suffer and continue to suffer."
"It is to avoid that the so-called vulture funds continue to operate," Perceval said. "They're only motivated by profit, and what they're doing can only be characterized as unjust, anarchic and unpredictable."
When the draft resolution was adopted by the assembly's Economic and Financial Committee on Dec. 5, U.S. representative Terri Robl expressed concern that the resolution "would establish a mandate for an expensive U.N. process to address issues that are already being dealt with in other international institutions" including the IMF and the International Capital Markets Association.