Paraguay with record 2014 beef exports, but faces Russian situation next year
Wednesday, December 31st 2014 - 05:36 UTC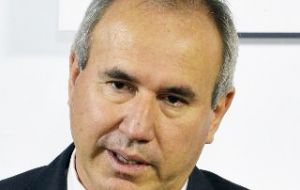 Paraguay twelve-month accumulated meat and meat products exports (mostly beef) reached 1.6bn dollars according to primary information said the head of the country's National quality and health animal services, Senacasa, Hugo Idoyaga, which represents a 20% increase in value over the 1.3 bn. dollars of 2013.
"It's a historic record, we could never imagine these numbers only a couple of years ago" said Idoyaga pointing out that the stable sanitary situation has played a key role in the event.
Beef exports in the twelve months of the year totaled 1.25bn dollars, other beef products, 150 million and pork, 10 million.
However despite a 'brilliant' year, there are challenges for Paraguay's meat industry, admitted Idoyaga and pointed out to the need of market diversification (premium cuts to the European Union for example) and the fact that the country's main client Russia, is facing hard times, because of the fall in oil prices and EU sanctions.
"We have done all the paperwork demanded by the EU, and we are waiting for the EU commission in charge of the issue to meet and decide", said the Paraguayan official who also revealed that some first shipments to Venezuela have been accomplished and "we are waiting for the Saudis to confirm a possible opening of that market".
However in the immediate what is pressing is the Russian situation, since their currency, the ruble has devalued 40% since last September and "now instead of paying 4.800 dollars a ton of beef "they are offering 3.300 dollars which does not fit into our costs", pointed out Idoyaga.
But hopefully "we can balance that drop with sales to Venezuela, the European Union and Arab countries".
During the first eleven months of this year, Paraguay shipped 118.768 tons of beef to Russia equivalent to 486.4 million dollars according to the official data from Senacsa.