Battle of the Falkland Islands centennial commemorated with £2 coin issue
Saturday, January 3rd 2015 - 05:51 UTC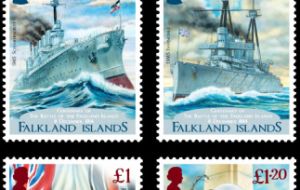 The Falkland Islands Government & Treasury have issued a new £2 coin which commemorates the Centennial of the Battle of the Falkland Islands. At the start of World War I in 1914, the Falkland Islands was an important strategic naval base that allowed crucial control of the British Royal Navy of the South Atlantic and the Magellan Strait connecting with the Pacific.
A month after German naval forces inflicted the Royal Navy's first defeat in a century by sinking two British cruisers with all hands, Admiral Maximilian von Spee, who led Imperial German Naval forces, brought his fleet to the Falklands where to his surprise he came across British squadrons anchored in Stanley. The German forces found themselves pursued by faster and far more superior British ships. All told, Germany lost four warships and more than 2,000 sailors in the Falkland Islands, compared with only 10 British deaths.
Referred to as the most decisive naval battle of World War I, the Battle of the Falkland Islands gave the allies a much-needed surge of confidence on the seas. The Battle also represented one of the last important instances of old-style naval warfare, between ships and sailors and their guns alone, without the aid or interference of airplanes, submarines, radar or underwater minefields.
The coin, struck by the Pobjoy Mint, UK on behalf of the Falkland Islands Treasury, includes a reverse design which features the fast light cruiser HMS Glasgow, one of the key ships in the battle, surrounded by bomb water explosions and the date of the battle. The obverse the of coin features the well-known effigy of Her Majesty Queen Elizabeth II, created by Ian Rank-Broadley FRBS, which has been used on British circulation coinage and on the coins of many Commonwealth & British territories since 1998. The two pounds coin is bi-metallic, weighs 12.00gms, has a 28.40mm diameter and is UNC quality.
The Falklands currency, the Pound is equal to and exchangeable with the British Pound or Sterling and the two pound coin is produced according to the same specifications as the UK circulation type £2 coin. The coin is available in Base metal and in uncirculated quality, for more information on this and other coins issued by the Falkland Islands, please visit the website of the Pobjoy Mint at: http://www.pobjoy.com/ukworld/section.php/1480/1.
A set of commemorative stamps marking this important anniversary at the onset of the First World War was also issued by the Falklands Treasury. The stamps, four in total include one 30 pence value, a 75 pence and two one pound values and include vivid colorful depictions of HMS Glasgow as well as an image of a sailor representative of the day. There is also an image of the poppy, international symbol of the armistice of the Great War which was concluded on the 11th day of the 11th month, 1918.
For more information on this and other stamps issued by the Falkland Islands Treasury, please visit the website