Maduro and Biden shake hands and meet briefly at Rousseff's inauguration
Saturday, January 3rd 2015 - 06:11 UTC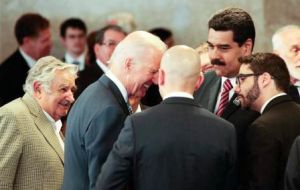 On the sidelines of the inauguration of Brazil's President Dilma Rousseff at the Planalto Palace seat of Brazil's Executive, U.S. Vice President Joe Biden met briefly with Venezuela President Nicolas Maduro in a hand-shake facilitated by Uruguay President Jose Mujica.
Biden and Maduro shook hands and chatted along with Mujica, reminiscent of the handshake and brief talks between former Venezuela President Hugo Chavez and U.S. Secretary of State Hillary Clinton four years previously at Rouseff's first inauguration.
Venezuela's Miraflores Presidential press office reported that Maduro reiterated his position to promote respectful relations with the U.S. and expressed his opposition to US plans "to dominate other nations, or impede economic development -- as US President Barack Obama has publicly acknowledged, as in the case of Russia, where the US has applied a range of sanctions and strategies that have reduced oil prices worldwide."
What Biden said in the meeting has not yet been revealed, but the US vice-president has been critical of Venezuela's Maduro. Earlier this year, in March, at the inauguration of Chile's Michelle Bachelet, Biden issued a damning rebuke of Venezuela's government.
"The situation in Venezuela reminds me of previous eras, when strongmen governed through violence and oppression; and human rights, hyperinflation, scarcity, and grinding poverty wrought havoc on the people of the hemisphere," Biden told Chilean newspaper El Mercurio at the time.
"The situation in Venezuela is alarming," he wrote. "Confronting peaceful protesters with force and in some cases with armed vigilantes; limiting the freedoms of press and assembly necessary for legitimate political debate; demonizing and arresting political opponents; and dramatically tightening restrictions on the media" is not what Washington expects from a signatory to international human rights treaties.
Rather than engaging the opposition in a "genuine dialogue," Biden added, "Maduro has thus far tried to distract his people from the profound issues at stake in Venezuela by concocting totally false and outlandish conspiracy theories about the United States".