Mujica defends Brazilian leadership in the region and called for strong unity
Saturday, January 3rd 2015 - 06:32 UTC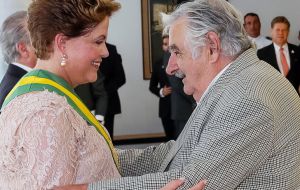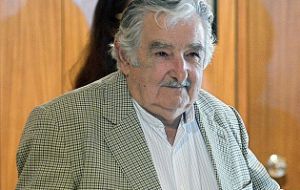 Uruguayan president Jose Mujica defended Brazil's leadership in helping Latin America carve a place and advance in the world context, but at the same time underlined that even when Brazil seems large to its neighbors, together with the rest of the countries, the region is still small in global terms.
"Brazil is the most important and gravitating country in Latin America. Its destiny is of importance for all of us. Brazil must work to gain our support, because it is a large country in the neighborhood but small for the world. We must try to advance together as close as possible for the benefit of the region globally", said Mujica following the inauguration ceremony of president Dilma Rousseff in Brasilia.
The Uruguayan leader added that countries of the region have spent too much time looking at the rest of the world, but that scenario has now changed and there is a better integration. Nevertheless there are still many hurdles to overcome mainly in the economic field for the region to advance and evolve jointly.
"We've spent too much time looking at the rest of the world, but history is changing now. We are overcoming difficulties one at a time. What seems impossible takes some more time", underlined Mujica.
Further on the Uruguayan leader said he was hopeful that following the improvement of relations between Cuba and the US, the economic embargo will be finally lifted. He pointed out that it is the poor people who most suffer because of economic sanctions and end paying those consequences.
"We must learn from our own history. Embargos never were useful for anything else but to make the people suffer and be deprived of basics. This happened with Italy, Spain, Russia, Iran. Those who end up victims of these actions are the poorest and most deprived of societies. Thus I believe it is a necessary political step to finally lift this embargo on Cuba".
Regarding Dilma Rousseff, Mujica streassed the significance that it is a woman that rules in Brazil and wished the president and the Brazilian people the best of lucks.
"If things in Brazil are running well, it is better for us in Uruguay; likewise if Brazil has problems and is not doing good, it is worse for us", concluded Mujica during a brief exchange with the Brazilian media.