Mujica's wife will run for mayor of Montevideo, Uruguay's main electoral base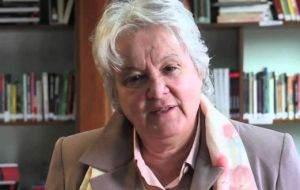 Senator Lucia Topolansky, the wife of outgoing Uruguayan President Jose Mujica, will run for mayor of Montevideo in the May 2015 elections, representatives of the governing centre leftist Broad Front coalition announced this week.
The 70-year-old Topolansky is a member of the People's Participation Movement, or MPP, the largest voting bloc within the ruling coalition, whose national executive committee decided on Tuesday to back the senator's mayoral bid.
There are now two Broad Front candidates for mayor in Uruguay's capital and largest city since the Socialist Party, another member of the coalition, has nominated Daniel Martinez for the job.
"Lucia has considered the situation and pondered if she would accept being a candidate under some conditions that we consider important," MPP spokesman Alejandro Sanchez announced.
Among the conditions agreed to with Topolansky, are mutual respect between the Broad Front's candidates and that the future municipal Cabinet be staffed on the basis of experience and ability without making support at the polls contingent on future posts.
The intention is to provide voters with options while avoiding "butchery" within the coalition, Sanchez said.
Sanchez noted Topolansky's long political career and "decision-making ability, her ability as a negotiator" always open to dialogue.
Topolansky "knows the real Montevideo because she's in constant contact with people and that enables her to run a campaign and a city administration very close to the citizens," Sanchez said.
Like her husband, Topolansky is a former Tupamaro guerrilla who spent over a decade as a political prisoner under the 1973-1985 military regime. Previous to that, since 1970, they spent time in jail for sedition against a legitimate elected government.
If Lucía finally becomes Montevideo's mayor based on the prestige of her husband, Mujica, the MPP will have control of Uruguay's main electoral region (half of the country) which added to its dominance in the coalition's legislative absolute majority, will strongly condition president-elect Tabare Vazquez and Economy minister Danilo Astori.
Vazquez and Astori represent the most conservative wing in the ruling coalition as well as orthodox economics, contrary to Mujica's more left wing approach to politics, government spending and overall financing.
In May, Uruguayans will elect governors and councils in each of the country's 19 provinces.