Top French economist refused to accept the Legion d'Honneur
Saturday, January 3rd 2015 - 06:54 UTC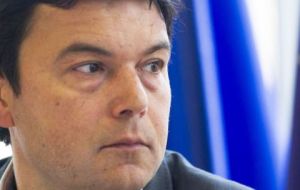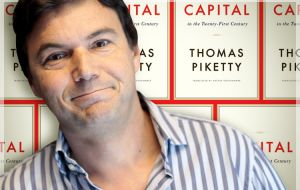 France's influential economist Thomas Piketty, author of the bestseller "Capital in the 21st Century", refused to accept the country's highest award, the Legion d'Honneur, arguing it is not the government's job to decide who is honorable and criticizing policies of the current Socialist administration.
"I have just learned that I was nominated for the Legion of Honor. I refuse this nomination because I do not think it is the government's role to decide who is honorable," Piketty said.
"They would do better to concentrate on reviving (economic) growth in France and Europe," added Piketty, who was once close to the Socialist Party but has distanced himself from the policies of President Francois Hollande.
The 43-year-old economist was on the published list of nominees for the prestigious award on January 1. Other recipients included France's two 2014 Nobel laureates, Jean Tirole, the winner of the economics prize, and Patrick Modiano for literature.
Piketty has gained attention worldwide with his book of theories about growing economic inequality, which has sold some 1.5 million copies. He has captured the attention of readers particularly in the United States, where Piketty met with advisors to President Barack Obama.
The book has been less well received in France as Piketty has become a stern critic of the Hollande government.
He criticizes the Socialist president for reneging on his campaign promise of fiscal reforms, including a more progressive tax system.
"No one told me in advance about this nomination, otherwise I would have immediately advised against it," Piketty said.
While it is rare to turn down the award created by Napoleon Bonaparte in 1802, Piketty is not alone.
The list of those who refused the honor includes such French literary notables as Albert Camus, Jean-Paul Sartre and Simone de Beauvoir as well as master artist Claude Monet and celebrated anti-poverty campaigner Abbe Pierre.
Even France's pioneering radiologists Pierre and Marie Curie and global movie star Brigitte Bardot did not want the award.
Piketty's "Capital in the 21st Century" was hailed as the "economic book of the year" by the Financial Times, and The Economist described him as a "modern-day Marx".
In the nearly 1,000-page book he looks at statistics dating back to 1700 to explain that economic growth does not naturally correct inequalities because capital tends to accrue more rapidly in developed countries than is realized -- in other words, the rich always get richer.
Piketty says in the book he sees a potential threat to democratic societies and the values of social justice on which they are based. The professor at the Paris School of Economics says one solution would be an annual progressive tax on capital, coordinated on a global level.