Republicans expose divisions as Boehner narrowly wins third term as House speaker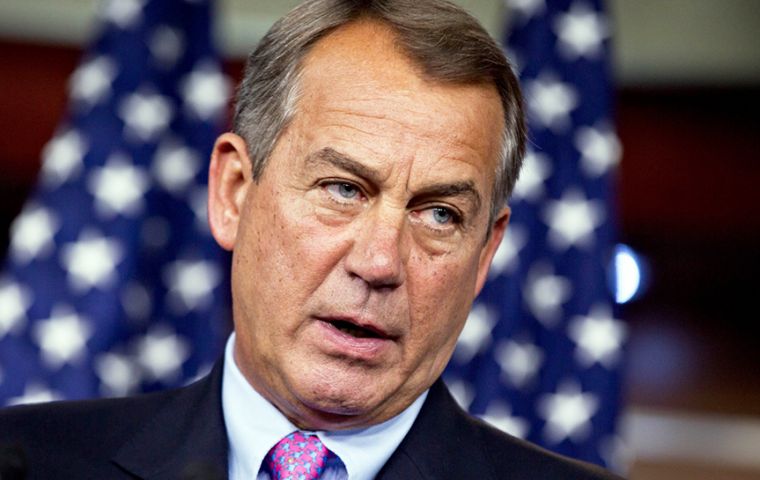 John Boehner narrowly won a third term as United States House of Representatives speaker, surviving a stiff challenge from 25 conservative Republicans as the party took full control of Congress.
Boehner received 216 of 408 votes cast in a tense vote, with a growing faction of dissident House Republicans declining to vote for him and nearly depriving him of a majority.
The group of Republican defectors was more than twice the dozen who withheld their support from him in an election two years ago, in an indication of stark party divisions that could make it hard to pass legislation.
Boehner can afford to lose a few more Republican votes on tough legislation after November elections gave the party its largest House majority since 1947. But with today's vote indicating a more restive right flank, he may need to depend even more on Democrats to win close votes.
"As speaker all I ask and frankly expect is that we disagree without being disagreeable, in turn I pledge to help each of you carry out your duty," a tearful Boehner told House members after the election. "My door, of course, is always open."
A core group of conservatives had campaigned against Boehner, arguing he had done too little to cut spending and fight President Barack Obama's immigration and healthcare policies.
Republican Senator Mitch McConnell, who assumed the Senate majority leader job on Tuesday has been hoping to avoid any government shutdown fights this year, could temper such House legislation and force Boehner's Republicans to compromise.
McConnell has influence over the House because the Senate will need to approve any legislation for it to win final passage.
But even some of the most conservative House members also were expressing the need to ease their hard-line stances.
"It might be that I end up voting for some things that are not clear victories but they are somewhat victories. But that's what the legislative process is about," said Fleming, who helped orchestrate the 2013 federal government shutdown in a failed attempt to kill Obamacare.
Republicans still may not be able to achieve a full repeal of Obama's signature health care law, but they are expected to chip away at it by passing measures to ease requirements for employer health care coverage and repeal an excise tax on medical devices. On the energy front, the first major bill the Republican-controlled Senate intends to pass is approval of the Canada-to-Texas Keystone XL oil pipeline.