Falklands contribution to the development of sheep farming in Magallanes
Thursday, January 8th 2015 - 01:13 UTC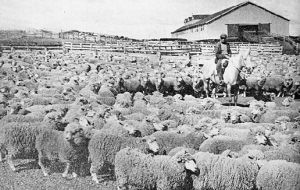 The close historic and farming links between the Falkland Islands and the Magallanes Region, were underlined in a recent article by Punta Arenas researcher Silvestre Fugellie dedicated to sheep farming, the 'golden fleece' that changed the economy of those barren lands in the extreme south of Chile over a century ago.
The piece by Fugellie is more a census of sheep farming in Magallanes in the late 1800 and early XXth century, how the industry got started, and the recurrence of English names, plus the fact that some of the first flocks were shipped to Magallanes from the Falkland Islands.
In effect Fenton Station from the Sociedad Ganadera Criadero Casimiro Ltd introduced Falklands sheep to the south of Chile in 1884. The Sociedad Ganadera y Comerical Wagner and Seiffer had 15.000 hectares divided into 12 paddocks. Alejandro Morrison in his Rio Penitente ranch had 22.000 sheep and 100 cattle.
Brothers Walter and George Lloyd in 1903 joined E. L. Reynard in a society which in 1911 became Reynard and Harries associates, comprising 24.700 hectares and 19.000 sheep. Another farm Rio Verde Sheep Farming owned 17.755 hectares of land while Hamilton and Saunders, with legal address in Ambers, had the Otway Station and Morro Chico totaling 18.000 hectares, 15.000 sheep and an annual clip of 57.000 kilos.

Likewise the ranch Dinamarqueros belonging to Mauricio Braun in 1888 declared 28.645 hectares, in 15 paddocks with 15.000 sheep and 150 horses, and an annual clip of 47.000 kilos. Another important farm was Tres Chorrillos belonging to Rodolfo Suarez, and with 20.000 hectares. The farm run along part of the Magellan Strait coast and the route leading to Rio Gallegos in Argentina.
According to Fugellie's article sheep farming was followed by abattoirs, tanneries and tallow processing plants, definitively giving Magallanes region an economic foundation.
The introduction of sheep, the 'golden fleece', many from the Falklands helped build the economy of Magallanes despite the barren and windswept soil, with the joint effort of Chileans and foreigners who settled in the region, concludes Fugellie.