European leaders will march on Sunday in Paris against terrorism
Saturday, January 10th 2015 - 07:11 UTC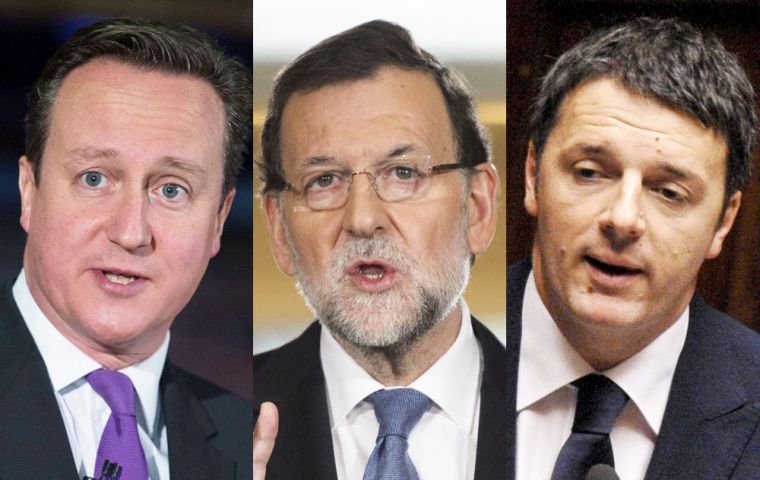 Several European head of states will join a manifestation in Paris on Sunday, to express their solidarity following the recent attacks. France's President Francois Hollande will be accompanied by an important number of leaders, including Spain's Prime Minister Mariano Rajoy, German Chancellor Angela Merkel, UK David Cameron and Italy's Matteo Renzi among others.
The act will begin at 2 pm GMT at the Republic Plaza, and thousands are expected to attend. An important number of European institutions have announced their solidarity before the French people, and some will send official delegations to the event.
Earlier on Friday the two brothers suspected of a bloody attack on the offices of French satirical newspaper Charlie Hebdo were killed when anti-terrorist police stormed their hideout; a second siege ended with the deaths of four hostages.
At the same time international media were reporting an Islamic State official has claimed the terrorist group's responsibility in the Charlie Hebdo massacre warning further attacks should be now expected in "Britain, America and others."
"We started with the France operation for which we take responsibility," cleric Abu Saad al-Ansari, who is affiliated with the IS Takfiri group, said in the Iraqi city of Mosul which in under control of the terror organization.
He continued to say that "all countries participating in the (US-led) coalition that has killed" members of the IS are to become the target of the terrorist group.
Likewise Britain's head of MI5 security service warned that Al Qaeda militants in Syria are plotting attacks to inflict mass casualties in the West, possibly against transport systems or "iconic targets".
"A group of core al Qaeda terrorists in Syria is planning mass casualty attacks against the West," Director General Andrew Parker said in a rare public speech at MI5 headquarters in London. His last public speech was in October 2013.
In the speech, planned before the killings in Paris, Parker said seasoned al Qaeda militants in Syria aimed to "cause large-scale loss of life, often by attacking transport systems or iconic targets" in the West.
In Washington President Obama made an unannounced visit to the French embassy in Washington to pay his respects to the victims of the Charlie Hebdo massacre.
Mr. Obama wrote in a condolence book expressing solidarity between the United States and "our French brothers", finishing his message with 'Vive La France' ['Long Live France'].
"As allies across the centuries, we stand united with our French brothers to ensure that justice is done and our way of life is defended. We go forward together knowing that terror is no match for freedom and ideals we stand for - ideals that light the world", wrote President Obama.