Significance of China for Latam trade and investment underlined by Eclac
Saturday, January 10th 2015 - 06:22 UTC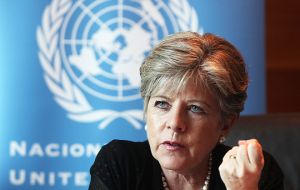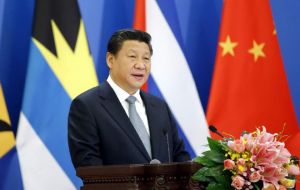 The importance of forging closer strategic ties between China and Latin America was underlined by Alicia Barcena, Executive Secretary of the Economic Commission for Latin America and the Caribbean (ECLAC), in her speech to the China-Community of Latin American and Caribbean two-day ministerial forum that took place in Beijing.
"It is vital for the region to forge closer strategic ties with China in order to attract more Chinese foreign direct investment, particularly that aimed at improving infrastructure, promoting production and export diversification and boosting Chinese-Latin American business partnerships", said Ms Barcena.
The forum although ministerial, was attended by the Presidents of China, Costa Rica, Ecuador and Venezuela; the Prime Minister of the Bahamas; Foreign Ministers from the 33 CELAC member countries; and representatives from multilateral and regional organizations including ECLAC, the Inter-American Development Bank (IDB) and the Development Bank of Latin America (CAF).
"We believe it is the right time for a leap forward in the quality of relations between Latin America and the Caribbean and China. This would be helped by a consensual regional agenda of priorities, with an emphasis on pluri-national rapprochements".
The Eclac top official said it was essential to promote regional cooperation with China for a very simple reason: it is not possible to understand the development and prospects of the world economy without considering China's key role therein. "Following three and a half decades of an annual growth rate of 10%, China is the world's top economy and its main exporter. It has achieved impressive progress in reducing poverty and expanding the middle classes", she stated.
Besides highlighting the fact that China became the region's second trading partner between 2000 and 2013, Ms Barcena explained that the link between Latin America and the Caribbean and China had brought many benefits, although challenges to address remain, such as a growing trade deficit and the strong concentration of regional exports on a small number of commodities.
At the China-CELAC Forum, Eclac presented participants with the document "First Forum of China and the Community of Latin American and Caribbean states (Celac): Exploring opportunities for cooperation on trade and investment", which provides an overview of trade and investment relations between the region and China, as well as presenting some recommendations on improving the quality of economic ties between the two.
Ms Bárcena also attended the seminar "A new development stage of China-Latin American and the Caribbean relations under the framework of south-south cooperation", organized by the Institute of Latin American Studies of the Chinese Academy of Social Sciences (ILAS-CASS). On the occasion, she presented a report on the main economic and social trends in Latin America and the Caribbean, as well as opportunities for cooperation with China.