Goldman Sachs forecasts oil price close to 40 dollars for most of fist half of 2015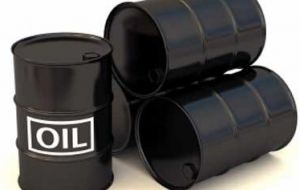 The price of a barrel of the North Sea benchmark dropped on Monday by 5.5% to 47.36 dollars, its lowest level since early 2009. US crude oil was also at its lowest level since that time, down by 5% to 45.90 a barrel.
The cost of petrol in the UK is being cut in response to the recent falls, with one Birmingham garage selling petrol at 99p a liter. UK supermarkets anticipated they would be cutting its forecourt price by a further 2p a liter to 103.7p. Diesel will be 110.7p.
Meanwhile, a leading investment house drastically cut its three-month forecast for Brent crude from 80 a barrel to 42 dollars.
Goldman Sachs said the price would stay close to 40 dollars for most of the first half of this year, at which price the firm said investment in the US shale gas industry would be held up.
The oil price has now fallen by more than half since June, when the price stood at 110 per barrel.
Production from North American shale companies has increased the supply of oil and gas, helping to depress prices.
Also undermining the price of oil are slowing global economic demand and a rising dollar against a range of other currencies. The latter can flatter the oil price, which nonetheless can remain the same price in a local currency that buys fewer dollars.
In another development dampening the oil price, two fires broke out over the weekend at refineries in Ohio and Pennsylvania, which will not now be able to process their normal flow of crude oil.
The oil producing countries' cartel, Opec, tends to respond to falling prices with a cut in output, a move that typically boosts the price.
However, at its most recent meeting in November, the group failed to agree on price cuts, with the dominant producing country, Saudi Arabia, preferring to retain current oil output.
There were signs over the weekend that its stance may be shifting, after fellow member Venezuela said in a statement it had agreed with Saudi Arabia to work for a recovery in the oil market and oil prices "with state policies" from the two countries.
However, this statement gave no details as to how this would be achieved, and would mark a change in policy for the world's biggest oil producer, which ignored pleas from its fellow cartel members to reverse the slide in prices.
Certain business sectors are expected to benefit from the situation. Airlines are one obvious industry. On Monday, Lufthansa said it expected its fuel bill for this year to be 13% lower than previously forecast, as a result of the low oil price.