Controversy in Argentina over Timerman's 'common citizen' attendance of Sunday's rally in Paris
Wednesday, January 14th 2015 - 04:14 UTC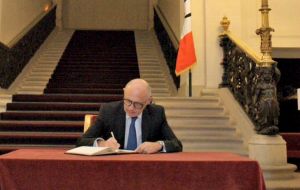 Argentine Foreign Minister Hector Timerman called a press conference to explain that he did march in Paris as a "common citizen" in the massive rally of solidarity after the terror attacks on France last week, rejecting reports by Clarin newspaper of alleged presidential orders instructing him not to attend the rally.
"I attended (Paris) rally on Sunday, with friends and relatives," Timerman said.
Following a series of criticism against the government for not sending high-profile offices to represent the country in the rally, Clarin reported that it had been president Cristina Fernández herself who had ordered Timerman to not attend the march.
The official said that Clarin has not forgiven him for denouncing its authorities over the purchase of Papel Prensa –the country's sole newsprint supplier- during the last dictatorship. Timerman said he decided to respond to the allegations because Clarin's "lies" were "affecting the government."
The minister explained that he had not spoken with Ms. Kirchner, rejecting the media versions, and said that he "preferred to be among common citizens." He said that he attended "as a common citizen who is against terrorist attacks, whether they are in Paris or in Nigeria."
"It was my decision and I do not regret it," he stated during the press conference. "Before being a Chancellor, I am a human being, and as such, I approach other human beings."
Earlier in the day Argentine Cabinet Chief Jorge Capitanich had also rejected Clarin's reports. "Chancellor Timerman has signed the Condolence Book, in which Argentina condemns terrorism, and he expressed solidarity with our sister Republic of France," he said to reporters in his daily press conference at the government house.