Argentine government bluntly rejects 'Iran cover up' accusation as 'nonsense'
Thursday, January 15th 2015 - 05:42 UTC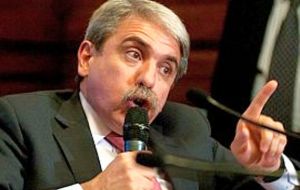 Argentina's Presidency Secretary General Anibal Fernandez bluntly rejected the accusations by the prosecutor in the AMIA bombing probe against president Cristina Fernández, foreign minister Hector Timerman and other Kirchnerite officials for allegedly "covering up" Iranian citizens in the investigation.
"This is nonsense. It is ridiculous, a last-ditch effort from someone who responds to other structures," the Secretary said about prosecutor Alberto Nisman, who has demanded a preventive embargo of 200 million pesos on Cristina Fernandez and has requested to question her, Foreign Minister Hector Timerman, lawmaker of head of the pro-government organization "La Campora" Andres Larroque, members of Argentina's Intelligence Office, ex attorney and judge Hector Yrimia, leader of the Iranian community here Jorge "Yussuf" Khali and political leaders Luis D'Elia and Fernando Esteche from the Quebracho grouping.
Anibal Fernandez said that the complaint filed by Nisman "is baseless" and stressed that "filing a complaint against the president for using her constitutional powers is nonsense." He highlighted that the Argentine Constitution enables the Executive Power to negotiate a deal with other countries, which are to be approved by the Congress, as was the AMIA Memorandum of Understanding with Teheran.
The official said that the accusation is part of an internal conflict within the Intelligence Office, which he said began last December, forcing the president to replace its head Hector Icazuriaga for Oscar Parrilli.
"Here we are discussing something else entirely," he said.
AMIA case special prosecutor Alberto Nisman said that besides president Cristina Fernández de Kirchner and Kirchnerite officials and political leaders, agents from the country's Intelligence Secretary are involved, but he refused to disclose their identities.
Speaking with the Jewish News Agency (AJN), Nisman said that President Cristina Fernandez and Foreign Minister Hector Timerman offered "Iran's impunity" before the signing of the controversial deal between the two countries to jointly probe the 1994 AMIA bombing.
"I have been working on this for over two years, because agents of the Intelligence secretary whose names I cannot disclose are involved," the prosecutor said.