Argentina downplays WTO adverse ruling and considers possible negotiations with litigants
Saturday, January 17th 2015 - 08:03 UTC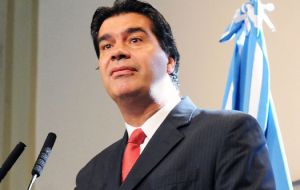 The World Trade Organization (WTO) ruling against Argentina triggers "no immediate modification" of the country's trade administration, Cabinet Chief Jorge Capitanich pointed out adding a "comprehensive and detailed analysis of the ruling's terms" is needed.
In his daily message to the press at Government House, President Cristina Fernandez chief of ministers on Thursday considered "possible to establish bilateral negotiation criteria with the complaining countries – United States, Japan and the European Union -, but not without carrying out first an analysis of the context," considering the financial crisis is still hitting hard on the global economy.
On Thursday, the WTO rejected Argentina's bid to overturn a ruling in favor of the US, the EU and Japan in a case against Argentine licensing rules that the international body said have been used to unlawfully restrict imports.
Furthermore, the cabinet chief blasted "media operations" that report an "alleged lack of certain goods and supplies," something he blamed "companies' lack of planning or speculative actions" for. Shortfall of certain goods or supplies, he affirmed, is not a matter of restriction or import authorizations.
"Argentina is within the first ten countries that have increased imports the most over the past eleven years," the ex governor of the Chaco province said stressing that the nations now battling against Buenos Aires at the WTO are those that receive complaints the most due to their own trade practices.
"Speculative attacks and foreign currency wars distort growth perspectives of the world economy and trade," the head of ministers continued, denouncing a "structural crisis of the financial system" that began in 2008 prompting severe consequences since then.
"Except for 2009, in 2014 the lowest rate of global GDP growth was registered, with 1.8%, while in Latin American it was of 1 percent," the official explained saying such scenario led to "difficulties in the financing of global trade."