Falklands 'holds a place in my heart', says UK presenter Sue Cook
Tuesday, January 20th 2015 - 07:08 UTC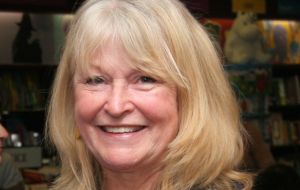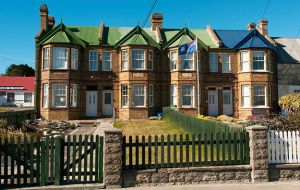 British TV presenter and author Sue Cook has been on what she described as an incredible three-week journey to Antarctica which relived Sir Ernest Shackleton's unique voyage 100 years ago, but admits to have fallen in love with the amazing Falklands, according to a report from the Banbury Guardian.
Visiting the Falklands "was something really special and will hold a place in my heart – I certainly recommend a trip like this", said Miss Cook.
The motive of the trip was famous explorer Shackleton, best known for his 'Endurance' campaign from 1914-16 and Miss Cook, who lives in Sibford Ferris, was one of 92 people to set off from the world's most southernmost city Ushuaia, Argentina, on November 21.
After departing Ushuaia they stopped off at the Falkland Islands, South Georgia and Elephant Island before returning to England on December 12.
"This was something I have always wanted to do and my friend who runs a travel company said there was one space available, but I only had three weeks to get fleeces and clothing" revealed Miss Cook.
But the former Crime-watch presenter singled out the Falkland Islands as one of her favorite experiences, which had English comparisons despite being located at the edge of the world.
"The area has a preconception that it is all dark with lots of rocks and fairly gloomy because of what we know about the conflict back in the 1980s.
"But when we visited it there was a beach that looked like the Caribbean.
"There were cars driving on the left hand side, red postboxes and people speaking English. It was very strange and we even had fish and chips in a pub."
"The scenery was absolutely amazing, and felt like you were in a fairytale with the blue seas and white icebergs. It was something really special and will hold a place in my heart – I certainly recommend a trip like this."
Miss Cook added that ten descendants of those who travelled with Sir Ernest Shackleton came on the trip and attended a church service on South Georgia Island, where the explorer is buried.
Shackleton led four expeditions to Antarctica in the 20th century and published several books during his life.