Israel and Argentine Jewish organizations call for AMIA probe to continue
Tuesday, January 20th 2015 - 05:20 UTC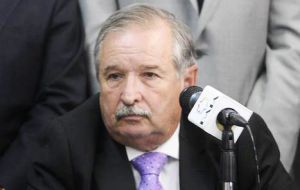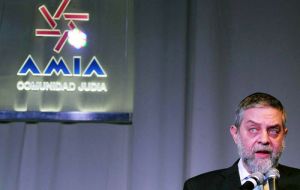 Israel urged Argentine authorities on Monday to carry on with the work of a prosecutor who was found dead after having alleged a cover-up in the investigation of Iran over the 1994 bombing of a Jewish community centre.
"The State of Israel voices hope that Argentine authorities will continue with Nisman's activities and make every effort to exact justice on those responsible for the terrorist attacks in Argentina."
Alberto Nisman had accused President Cristina Fernandez of having opened a secret back channel to a group of Iranians suspected of planting the bomb, with a view to clearing them so Argentina might trade grains for much-need oil from Iran.
Nisman's body was discovered in his apartment early Monday, a handgun nearby, hours before he was due to explain his allegations at the Argentine parliament, authorities said.
Israel's Foreign Ministry mourned Nisman's death "in tragic circumstances", a Hebrew term that sometimes alludes to suicide.
Nisman, the ministry said in a statement, was a "brave and prominent jurist who fought ceaselessly for justice (and) worked with great resolve to expose the identities of those who carried out the terrorist attack and those who sent them".
Argentine courts have accused Iran of sponsoring the 1994 bombing at the AMIA centre in Buenos Aires, which killed 85 people and injured 300, a charge the Islamic Republic denies. In 2007, Argentine authorities secured Interpol arrest warrants for five Iranians and a Lebanese over the bombing.
A similar attack two years earlier on the Israeli Embassy in the Argentine capital killed 29 people.
Argentine Jewish organizations were also regretted the death of Nisman and called for the AMIA probe to continue.
Julio Schlosser, head of DAIA Delegation of Argentine-Israeli Associations, likened the death of AMIA special prosecutor Nisman with the 1994 bombing against the Jewish community centre itself, "the bomb at AMIA has exploded again today".
Schlosser said that he spoke with Nisman for the last time on Wednesday, when the prosecutor filed a complaint against president Cristina Fernández and Foreign Minister Héctor Timerman, and other Kirchnerite political leaders, for allegedly covering up Iran's involvement in the AMIA attack.
DAIA's Secretary General Jorge Knoblovits in his turn said that Nisman's passing was "a tragic event" and that "AMIA has a new dead."
AMIA Jewish Community centre head Leonardo Jmelnitzky expressed his regret for the death of prosecutor Alberto Nisman.
"He had worked for ten years in the cause. It is irreplaceable," Jmlenitsky said. "The consequences of the prosecutor's death are not those of the death of any person," he added in an interview with the Jewish News Agency.
"It is very difficult to find someone who can get to know the case as he did," Jmlenitsky said.
In a press release also signed by Julio Schlosser, head of DAIA Delegation of Argentine-Israeli Associations, AMIA warned against the death of prosecutor Nisman becoming the death of the (AMIA) probe.