US/UK helicopters to support Falklands UK defense ministry operations
Tuesday, January 20th 2015 - 06:15 UTC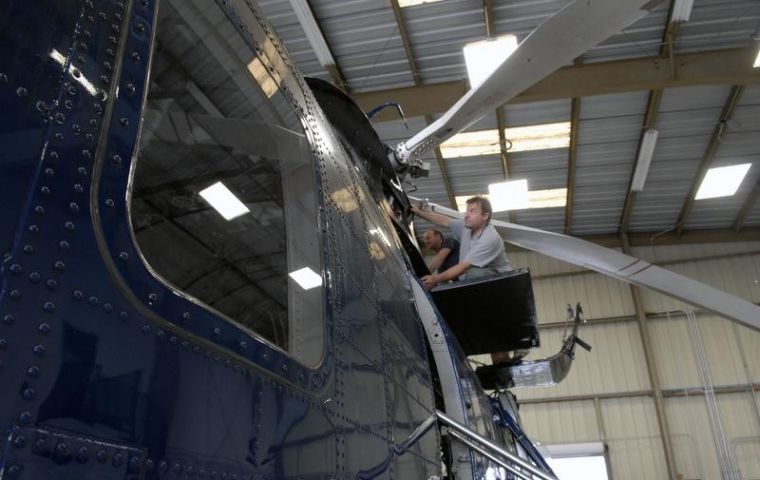 United States helicopter operator, AAR Airlift and partner British International Helicopters (BIH) have grabbed a £180 million ($275 million) helicopter deal to support U.K. defense ministry operations in the Falkland Islands.
The 10-year contract, beginning in April 2016, will see AAR and BIH operating a mixed fleet of upgraded Sikorsky S-61s for logistics and transport missions while the Agusta Westland AW189 will be employed on search-and-rescue (SAR) duties on behalf of British Forces garrisoned out of Mount Pleasant Airfield on the South Atlantic islands.
BIH has been the incumbent operator on the contract for more than 15 years flying S-61s there. The company, which was taken over by the Rigby Group in May 2013, will be sub-contracted by AAR Airlift.
The AW189s will be used to take over from Royal Air Force Sea Kings that are being retired from the SAR role at the end of March 2016.
AAR's contract selection of the AW189 means it becomes the second customer for the U.K. assembled AW189 - built at Yeovil, Somerset -after Bristow, which ordered 11 aircraft to support its U.K. Department for Transport SAR contract from bases on mainland Britain.
AAR will take delivery of its two aircraft in October and November of this year, giving time for crews to train before the aircraft are sent down to the Falklands. The S-61s will be upgraded with a traffic collision avoidance system and retrofitted with a composite rotor blade developed by Carson Helicopters.
"We partnered with British International Helicopters because they have long experience of working in the Falklands" said Randy Martinez, CEO of AAR Airlift Group. "This award presents a tremendous opportunity for AAR Airlift's business as part of our strategy to diversify our capabilities and customer base."
Readiness states vary from 15 min. to 60 min. response and require a 24-hr.-a-day, 365-days-a-year alert posture.
The contract is AAR's first with a European defense ministry after years of contracts with the U.S. Department of Defense, most notably in Iraq and Afghanistan, and now more recently in Africa, according to Martinez.
Ian Craddock, Head of Helicopters 2 in the MOD's Defense Equipment and Support department, said: "I have every confidence that AAR Airlift has the capability and experience to provide a search and rescue service that maintains the high standards set by the Royal Air Force, who we must thank for the service they have delivered to date.
"We will work closely with AAR through the period of transition, with the RAF continuing to provide search and rescue cover until the new service starts. I am also pleased that AAR will be sub-contracting British International Helicopters, who is already successfully providing support helicopter services in the Falkland Islands, to support delivery of the combined service."
The U.K. government had originally planned to include the Falkland Islands with its wider SAR-H program for rescue helicopters on the mainland U.K. and in Cyprus. But the idea was abandoned in 2009, and the entire SAR-H private finance initiative was abandoned in 2011 because of irregularities.
(*) AAR is a global aerospace and defense contractor that employs more than 6,000 people in 17 countries. Based in Wood Dale, Illinois, AAR supports commercial, government and defense customers through two operating segments: Aviation Services and Technology Products. AAR's services include inventory management and parts distribution; aircraft maintenance, repair and overhaul; and expeditionary airlift.