Morales invested as Indian leader in Andean ritual calls to defend Mother Earth Pachamama
Thursday, January 22nd 2015 - 05:38 UTC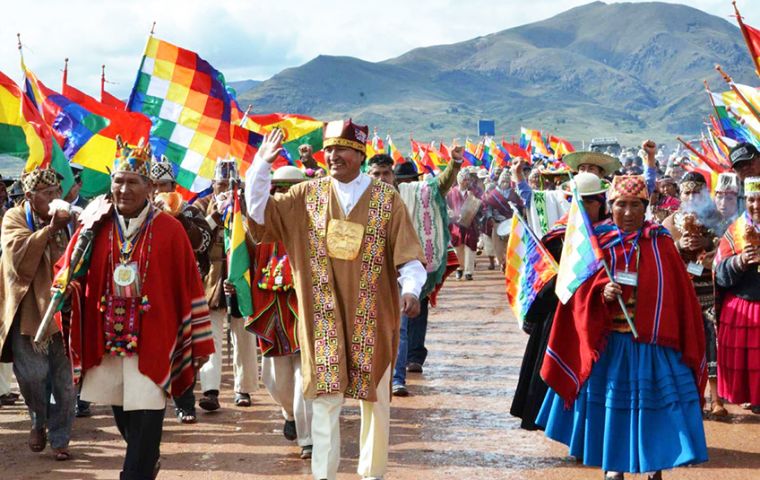 Bolivian President Evo Morales called Wednesday for a halt to "the crazy race of destroying the Earth in the name of development" after being invested as Indian leader in a ritual at the pre-Colombian ruins of Tiahuanaco, located some 71 kilometers from La Paz.
In his speech before presidents, vice presidents and representatives from many countries, Morales defended Mother Earth, or Pachamama, during the ceremony in which he received the symbols of indigenous power.
The rituals took place on the eve of his official inauguration on Thursday in the Bolivian Congress, an event that will begin his third consecutive term as president and which will keep him in office until 2020.
"This world can no longer support so much over-development. In the name of the modernity of the industrialized countries, they are over-industrializing and that has a cost for Planet Earth. We're moving toward the destruction of our planet," he warned.
Morales added that there is no First, Second or Third World, but rather only one "for which we're all responsible" and he asserted that defending nature is not a question of race or skin color.
"It's not the color of my face that's going to kill you. What's going to kill you is the color of the water you drink, the smell of the air you breathe," said Morales in his address.
The Bolivian leader also defended the need for human beings to reestablish their balanced relationship with nature and emphasized the importance of the Indian peoples of the world in that effort.
The indigenous investiture ceremonies began with a ritual "cleansing" of the president performed by wise men of the Aymara culture, who accompanied Morales to the most symbolic sites at Tiahuanaco to invoke the aid of Andean deities.
Similar ceremonies were performed in January 2006 and 2010 for Morales at the archaeological site at the beginning of his two previous terms in office.