Death of British and Falklands patriot
Saturday, January 24th 2015 - 06:06 UTC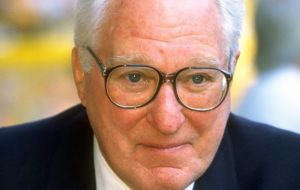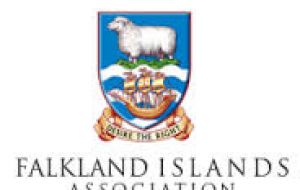 Famed British patriot and generous Falkland Islands benefactor Sir Jack Hayward has died, aged 91 in Florida in the United States. Known as "Union Jack" for his love of all things British, he was knighted in 1986 for his charitable actions and donations to totaling many millions of pounds, much of it for Falklands-related causes.
He paid for the wrecked SS Great Britain to be brought back to Britain from the Falkland Islands and for the ship's restoration in Bristol. He donated funds for repairing the fire-damaged King Edward VII Memorial Hospital in Stanley. After the Falklands War, he was named as the mystery benefactor of £1,000,000 to the South Atlantic Fund to aid families of British serviceman killed or injured in that war. He was a generous donor to the campaign to build the Falklands Memorial Chapel at Pangbourne College in Southern England. He was for many years a Vice-President of the Falkland Islands Association supporting the rights of Islanders.
He gave £500,000 to the Vulcan to the Sky Fund. He funded three international racing yachts Great Britain I, II and III, spent £100,000 on saving the sloop Gannet, the Royal Navy's only survivor of the transition from sail to steam, and contributed another £100,000 to help raise the ancient wooden warship Mary Rose.
He bought Wolverhampton Wanderers, his home town football club he supported as a boy and spent many millions of pounds keeping it solvent. In politics, he supported the Liberal Party.
The multi-millionaire businessmen based himself in the Bahamas where he was vice president of the Grand Bahama Port Authority, living on the site and supervising clearance and construction, in primitive conditions. And he arranged for crews of visiting Royal Navy ships to have a meal at a local restaurant.
He introduced black taxi cabs, double deck buses and red telephone boxes into Grand Bahama, and drank his tea made in a Union Jack teapot. He had Rudyard Kipling's Rolls-Royce restored and presented to the family of that other great British patriot. He described his recreations as "keeping all things bright, beautiful and British" and said "I was born British and I intend to keep saying that. To hell with people who think otherwise".
He volunteered for the Royal Air Force at the age of 18 and flew Dakota transports on dangerous missions to supply the 14th army in Burma.
Harold Briley, London.