Full support for Argentina's Malvinas claim pledges new Uruguay government
Monday, January 26th 2015 - 07:34 UTC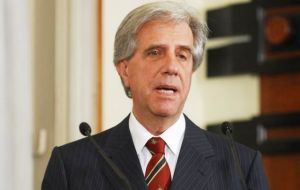 Uruguay's next ambassador to Argentina Hector Lescano said that bilateral relations have always been 'cordial', even in difficult times, and there is no doubt that when president-elect Tabare Vazquez takes office, Uruguay's full support to Argentina's claims over the Falklands/Malvinas Islands will be maintained.
"Having been appointed ambassador to Buenos Aires is a great honor for me, it is one of the most important embassies of Uruguay", said Lescano, a Christian Democrat and member of the Broad Front catch-all ruling coalition which won the November election and will be taking office next March first.
"There is no doubt that Uruguay will maintain its full support for Argentina's sovereignty claims over the Malvinas Islands. For Uruguay, Malvinas is a national cause", underlined Lescano.
"We will always be next to our Argentine brothers to ensure so that Argentina someday can achieve the diplomatic and political circumstances so that justice is made" regarding the Falklands/Malvinas claim.
The current outgoing government of President Jose Mujica has supported Argentina's Latin American campaign to ban Falklands' flagged vessels from calling in South American ports but has refused point blank any blockade of the Falklands as has been demanded by Argentine president Cristina Fernandez.
Mujica has repeatedly said he will not support any policies that infringe on the Falklanders human rights.
"My task will be the challenge to try and help from a political and diplomatic angle that some of those differences with Argentina are solved, that others pending issues can be railed back", according to Lescano who is also one of the closest confidents of incoming president Tabare Vazquez.
"Things that unite us are far more than those that separate us, and it is always important to underline, that even in the most difficult moments, relations between our countries have been cordial".
"I remember that with Tourism minister Enrique Meyer, when I also was tourism minister, we had several years of very good work and coordination", said Lescano recalling that Argentina "continues to be our main market for tourism in Uruguay".
Lescano also pointed out he wants to strengthen 'bi-national commissions' and recalled that both countries have a common agenda in production, culture, tourism issues, "following on the legacy of Artigas, which continues to inspire us and hopefully he will continue to be our reference".
Jose Artigas is considered the founding father of Uruguay although all his life he fought against Buenos Aires to establish a federal state, on the lines of the US. Artigas reviled in Argentine history books as a half bred rebellious Indian has recently been revived by President Cristina Fernandez as the 'true federalist' of the United Provinces.
Lescano, a vet by profession, not only has been a lawmaker and confident of Vazquez, but was also the head of the team that drafted the Broad Front's government program for the next five years.
Finally regarding Mercosur, Lescano said that he expects to better coordinate the block's efforts to reach a full integration, "overcoming current difficulties" appealing to the 'cordial relation' between both countries.
During Vazquez' first period, 2005/2010, his government repeatedly clashed with the Kirchner administration's over the construction in Uruguay of a pulp mill, which Argentina insisted contaminated and was decided without consulting Buenos Aires. The dispute reached the international Court of Justice in The Hague while Vazquez and the Kirchner couple ceased to be in talking terms.
Argentina retaliated by organizing pickets to block the main bi-national bridge and thus limiting tourism to Uruguay; delaying Uruguayan imports and refusing to dredge River Plate access canals.
It was only during the administration of Mujica (2010/2015) that relations improved and dialogue was reestablished, but the bilateral agenda despite Argentine promises did not advance much.