Poverty reduction in Latin America stalls during 2014: totals 167 million
Tuesday, January 27th 2015 - 06:18 UTC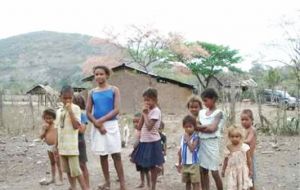 Poverty affected 28% of Latin America's population in 2014, revealing that its decline has stalled at around that level since 2012, while indigence rose to 12.0% from 11.3% during the same two-year period in an overall context of economic deceleration, according to projections from a study presented On Monday by the Economic Commission for Latin America and the Caribbean (ECLAC) in Santiago, Chile.
The document Social Panorama of Latin America 2014 indicates that the poverty situation in the region remained stable between 2012 and 2013, when it affected 28.1% of the population. It is estimated for 2014 that in percentage terms poverty should stay at around 28%, which, given demographic growth, would translate into an increase in absolute figures to 167 million people.
Meanwhile, extreme poverty or indigence rose to 11.7% in 2013 from 11.3% in 2012, which supposes an increase of three million people raising the total to 69 million. Projections indicate that in 2014 that figure likely increased to 12%, which means that of the 167 million people who were poor that year, 71 million suffered extreme poverty or indigence.
"The recovery from the international financial crisis does not seem to have been taken advantage of sufficiently to strengthen social protection policies that reduce vulnerability in the face of economic cycles. Now, in a scenario of a possible reduction in available fiscal resources, more efforts are needed to fortify these policies, establishing solid foundations with the aim of fulfilling the commitments of the post-2015 development agenda," said ECLAC's Executive Secretary, Alicia Barcena.
Despite the lack of progress seen in the regional average, five of the 12 countries with available information through 2013 showed declines in poverty as measured by income that exceeded one percentage point per year. The countries that showed the biggest reductions were Paraguay (to 40.7% in 2013 from 49.6% in 2011), followed by El Salvador (to 40.9% in 2013 from 45.3% in 2012), Colombia (to 30.7% in 2013 from 32.9% in 2012), Peru (to 23.9% in 2013 from 25.8% in 2012) and Chile (to 7.8% in 2013 from 10.9% in 2011).
In addition to analyzing poverty in terms of income, the 2014 edition of this annual study presents a complementary and multidimensional measurement that covers five areas: housing, basic services, education, employment and social protection, and standard of living (which refers to monetary income and the possession of durable goods). A person is considered poor if he or she is lacking simultaneously in these areas.
According to this index, between 2005 and 2012 the incidence of multidimensional poverty decreased—on average in 17 countries of the region—to 28% from 39% of the population, which is similar to the rate of poverty as measured by income alone. Declines were registered in all the cases, according to this measurement, with the biggest drops seen in Argentina, Uruguay, Brazil, Chile and Venezuela.
With regard to inequality, there were improvements in the 15 countries with updated information, with the only exception of Costa Rica.