Looking for Vulnerable Marine Ecosystems in the south east Atlantic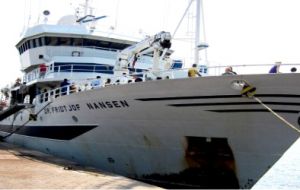 Researchers from the Spanish Institute of Oceanography (IEO) and the University of Vigo, belonging to the science team EcoAfrik project, are participating in an offshore oceanographic campaign, off the coast of South Africa and Namibia, looking for Vulnerable Marine Ecosystems that require protection.
Until mid-February, the ship Dr. Fritdjof Nansen, belonging to the Norwegian Agency for Development Cooperation (Norad) and operated by the Marine Research Institute (IMR) of Bergen, serves as a platform for a multidisciplinary team of scientists, whose aim is to assess fishery resources and locate Vulnerable Marine Ecosystems (VMEs) in South-eastern Atlantic.
This campaign is the result of cooperation between the SEAFO (FAO South East Atlantic Fisheries Organization), the EAF-Nansen project and the Deep-sea FAO program, which aim to facilitate support activities to the efforts of regional fisheries organizations to achieve the goals of the United Nations General Assembly (UNGA) and the corresponding FAO guidelines relating to the conservation of marine ecosystems and regulation of bottom fishing in the high seas.
The campaign will run in the marine area under the jurisdiction of SEAFO and will be aimed at, besides the evaluation of fishery resources, the location and delineation of EMVs in the numerous submarine mountains and banks s of Walvis ridge, extending off the coast of South Africa and Namibia.
The establishment of Marine Protected Areas (MPAs) on the high seas, particularly closed to certain fishing areas, is a valuable tool to reduce the negative impact of fishing on biodiversity, habitats and vulnerable marine species.
This impact is particularly severe in the case of demersal fisheries developed in deep water, as a result of using non-selective gear that can affect fragile marine habitats and species of low productivity that biologically cannot withstand high operating rates.
To date, in SEAFO's offshore waters, 13 Sensitive Sea Areas have been identified, of which 10 are closed to fishing with bottom gears. Although six of them are considered undeveloped, other four (seamounts Dampier, Malahit Guyot, Molloy and Vema) have suffered some form of exploitation in the past. Three other areas, Valdivia and Ewing banks and mountain Meter, have been proposed for closure, but remain open to fishing.
During the campaign, the presence and abundance of benthopelagic fish (Patagonian toothfish and alfonsino, among other species) and sessile epibenthos will be discussed, including EMV indicator species (cold water corals, sponges, and gorgonians) in the selected fishing areas as well as in areas currently closed to exploitation. (FIS).-